Eyes on the prize
Dakota Ratley
March 24, 2014
Hang on for a minute...we're trying to find some more stories you might like.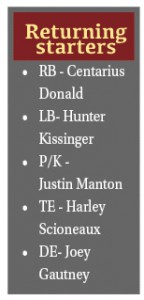 The football team started spring practices last week, including practicing in pads for the first time Friday afternoon.
The team practiced Monday, Wednesday and Friday. The level of intensity was obvious as many hits drew audible reactions from the small crowd that was in attendance.
Ray Stovall, senior linebacker said that it was nice to be back on the field.
"They were stressing physicality and stuff like that in the offseason so that's what we try to do the first day, just come out and hit people," Stovall said.
The Warhawks hope that physicality will help the team improve from the 6-6 record it held last year. The campaign saw the team finish in a tie for third in the Sun Belt and become bowl eligible for second straight year.
Competitiveness is not in short supply in practice. Head coach Todd Berry said that there are a lot of positions that are up for grabs, and that there are no "inherited jobs."
Berry is entering his fifth year as head coach of the Warhawks. Each year more is expected from Berry's squad.
"We have expectations. We know that. I think this group knows that nothing is going to be given to them, and they have to work for everything," Berry said.
The Warhawks will have their work cut out for them. The non-conference schedule includes a home game against Wake Forest and away games at LSU, Texas A&M and Kentucky. Idaho State and New Mexico State  will rejoin the Sun Belt Conference and Appalachian State. Their conference schedule includes games against traditional rivals Arkansas State and UL-Lafayette.
Stovall said that the team expects to be a contender in the Sun Belt and to be active in the postseason.
"We tasted it. We have a banner up there, AdvoCare Indepedence Bowl 2012. There's four open spots that we'd like to fill up," he said.
That 2012 season, the Warhawks achieved an 8-5 record – their first winning record since 1993 – and went to a bowl game for the first time in school history. That season also included a win over then number eight Arkansas.
The team will continue practice throughout the spring, with scrimmages on March 29 and April 5. The team will hold the spring game on April 12 and it starts at 1pm.
Correction: The article previously said the Spring Game would be held on April 5.
no images were found