Martin retires as winningest coach
Dakota Ratley
March 24, 2014
Hang on for a minute...we're trying to find some more stories you might like.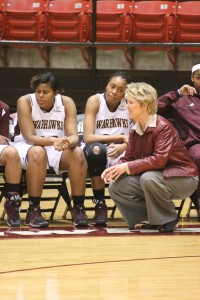 ULM women's basketball coach Mona Martin has decided to retire after 19 years leading the Warhawks.
During her almost two decades of roaming the sidelines, coach Martin racked up the most wins in school history with 263.
Brian Wickstrom, Director of Athletics said Mona Martin is the foundation of ULM women's basketball.
"Every basketball player that comes through, every coach that comes through from this point coming forward owes Mona Martin love because she's the one who built this basketball program into what it is," Wickstrom said.
Martin's career includes an overall record of 252-272 at ULM, including eight winning seasons and two seasons of at least 20 wins. Martin won the Southland Conference Coach of the Year in 1998 and 2005. During that 2005 season she led the team to a share of the regular season conference title. Martin led the Warhawks during the change to the Sun Belt Conference in the 2006-2007 season.
She coached the Warhawks to an 11-20 record this year. Ashleigh Simmons was named to the First Team of the All-Sun Belt Team, the 19th player to be named to All-Conference teams under Martin.
Martin played college basketball at Northwestern State University of Louisiana before beginning her coaching career at Natchitoches Central High School.
She won multiple state titles and a National Coach of the Year award there before entering collegiate coaching as an associate head coach at Northwestern. Martin then coached at West Monroe High School. She also coached AAU teams before taking the job at ULM.
ULM students will miss seeing Martin on the sidelines of ULM games. Current students have never seen the program without her on the sidelines.
Raymond Swalley, senior communication major, said that things wouldn't be the same without her.
"It will be odd not seeing her as the head basketball coach next year because in my five years here she has been a staple," Swalley said.
Martin's replacement will be influenced by her legacy. Wickstrom said that whoever replaces Coach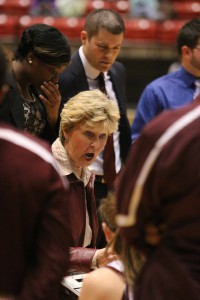 Martin would be expected to build on the groundwork that Martin provided.
He also said that replacement would hopefully be able to "blend into the community" and become as well liked as Martin was on campus.
Wickstrom said that Mona Martin would always be a part of ULM.
"Her name will always be synonymous with basically ULM basketball," Wickstrom said.