Traveling across campus one wheel at a time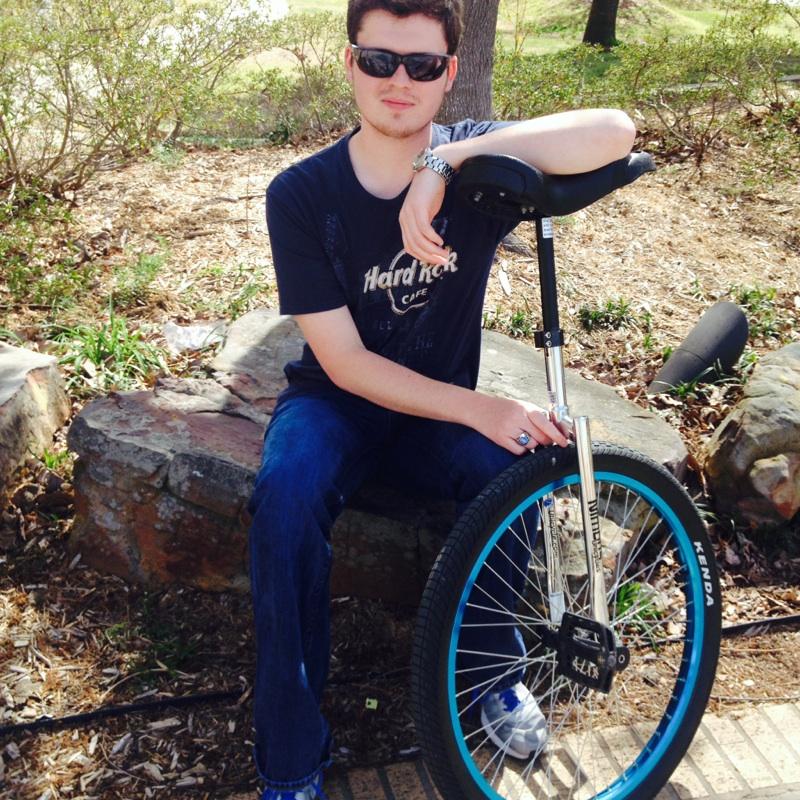 Gwendolyn Ducre
March 24, 2014
"If college doesn't fall through, you've always got the circus," Cody Gibson's neighbor told him as he practiced pedaling on his unicycle.
While most young adults would spend their paychecks on clothes, food or more clothes, Cody thought it would be fun to spend his hard earned cash on a unicycle.
Cody, a freshman psychology major, took to Amazon.com in hopes to find his first unicycle. And so he did.
Love at first sight, if you will.  When his bike arrived, he instantly began to practice in the garage of his Shreveport home.
Cody assumed he would be able to hop on and begin his journeys, but cycling was harder than expected. Despite his countless falls, Cody always got back up and tried again.
After two years of practicing, Cody still suffers from a few falls here and there. Recently, Cody experienced what he describes as his worst fall.
It was on campus when the embarrassing fall happened. Trying to bypass walkers, Cody tried to ride through grass-something he hasn't mastered riding over yet.  Cody lost control of his wheel and fell flat on his face. His wheel flew over his body and whacked him in the head.
To make matters worst, he landed next to an ungrounded wire. Completely acknowledging Cody's fall, an unidentified man walked up to the wire and said, "Well, this is unsafe." He then placed the wire back in its place and walked off.
Though Cody isn't the only cyclist on campus, he is the only one being spotted cycling. He's now known as the "Uni Guy" on campus.
"I do enjoy riding around and seeing people start to smile. Whether it's, 'Wow. That's amazing' or 'Ok. I didn't expect to see anything that crazy today.' It's just nice to see people brighten up," Cody said.
Now that his traditional cycling has improved, Cody is learning how to perfect his tricks. So far, he can hop and ride backwards.
He's now trying to master "Seat Out", which will enable him to petal without siting on his seat. He's constantly looking for new tricks on YouTube.
Some bikers on campus fear their bikes will be stolen when left unattended. Cody, however, feels at ease. It would be difficult for anyone to steal his bike and be able to ride it.
His $300 unicycle is adjusted only for a six-foot tall person with longer legs.  Cody protects his unicycle with a rubber lock that requires a key.
For those interested in learning how to purchase or ride a unicycle, it takes a lot of practice. Cody said on average it would take a beginner 20 hours before being able to be a cyclist.
What started off as a hobby to Cody is now a lifestyle. He can't imagine a life without cycling.
no images were found