VAPA recreates Grimm's Fairy Tales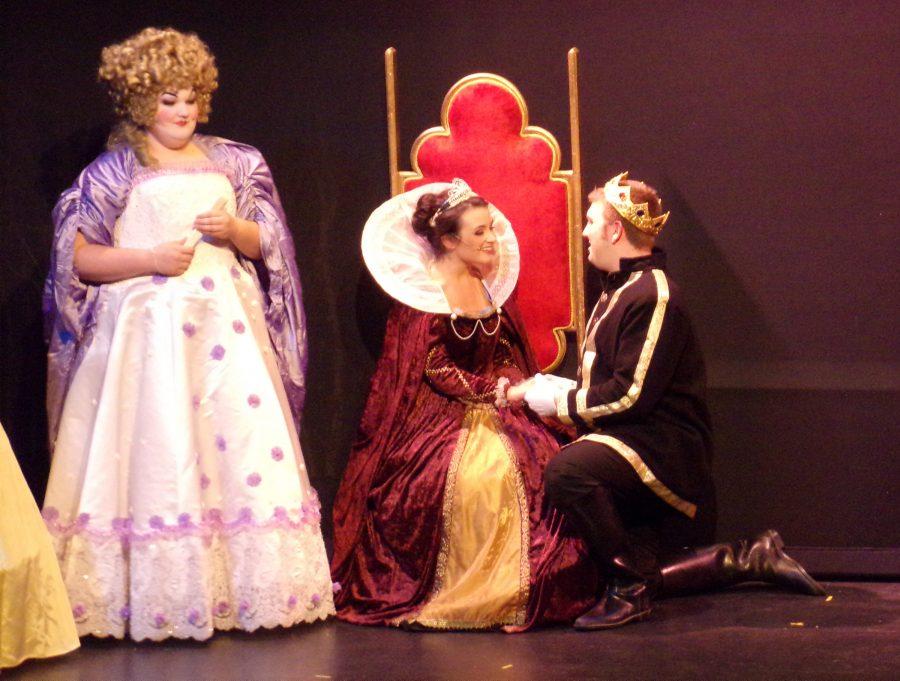 Gwendolyn Ducre
April 7, 2014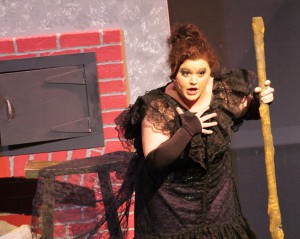 At what age is considered too young to enjoy Grimm's Fairy Tales or watch Cinderella lose her glass slipper for a prince to find? Like most fairy tale characters, everyone's forever young.
The School of Visual and Performing Arts department reminded some of the audience members of their favorite childhood fairytale during their spring musical, "Into The Woods."
The four-day production showcased what was crafted together in a three month timespan. By the end of December, the cast was assigned roles and started rehearsals within weeks. Now that casting was complete, it was time to get on with blocking.
Robin Stephens, director and musical number choreographer, dissected the play from beginning to end.  With this particular play, there are few big numbers that require a large dance production.
Stephens said she does a lot of dancing so when there is a large number, she prefers to direct the scenes out of sequence.
"Dance requires more time. I'm working on those first so that when we get to them, they are put together," Stephens said.
The play is narrated to unfold the journey of Cinderella, Little Red Riding Hood, Jack, Rapunzel, the Baker and a lot of other popular fairy tale character's takes into the woods.
The play is two stories in one. Act I The Baker and his wife takes sets out into the woods to break the spell that has been bestowed upon him.  Along their way, the couple bumps into other fairy tale characters.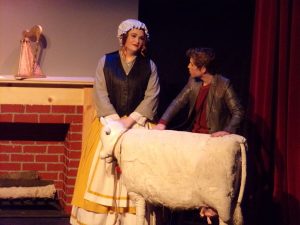 Act II gives the audience a storyline they never get to see in movies: what really happens after the happily ever after. This also gives the audience a chance to view the characters as real life people as they face obstacles like betrayal, infidelity and-here is something not often seen in a fairytale- murder.
No one had the opportunity to upstage another character because they each had a scandal or juicy plot that was waiting to be revealed.  Though they each had their own storyline, they individually gave the play different principles.
Sha'Net McCarter, a senior mass communications major, played as one of Cinderella's birds. McCarter says every element in the play has a significant purpose.
"The show wouldn't be 'the show' if you didn't have Cinderella's birds, if you didn't have props, if you didn't have the sound the music. So, each theme is important," McCarter said.
Opening night seemed to be a success when mostly all attending stood and gave the cast and orchestra a standing ovation.  Many where family and friends supporting the cast and crew while others just came out to be entertained.
Ariel Dillon, a junior health studies major, said she came out with friends to see her first musical. Dillon also said the play was funnier than she expected.
"I think I was really surprised when the grandmother was a guy. It threw me off guard. That's when the play got really funny," Dillon said.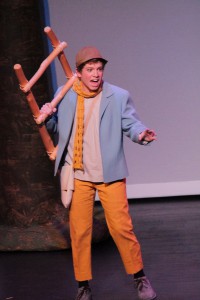 Stephens was especially pleased with how the play, overall, turned out despite minor difficulties.
"That's really what live theatre is about. It has that element of 'ok that didn't work but how are we going to fix it.' These kids have been rehearsing [and] rehearsing, if something horrible happens or something that I can fix with a word, I'll say it," Stephens said.
The cast put a lot of time and effort in to the play to make it the best it can be. Tech nights and dress rehearsals lasted four hours. Notes were given and set and sound changes were made.
Kailyn Ardoin, a sophomore pre-social work major, said she admires how much dedication is put in to the play after seeing her friend, who's a principle in the play, attending rehearsals every night.
"I know how much work is put into it and it's nice to see it all come together," Ardoin said.
Look out for Into The Woods, again, when the film hits theatre in December. The movie will be starring Jonny Depp, Anna Kendrick and Meryl Streep.
no images were found