Men don high heels for sexual assault awareness events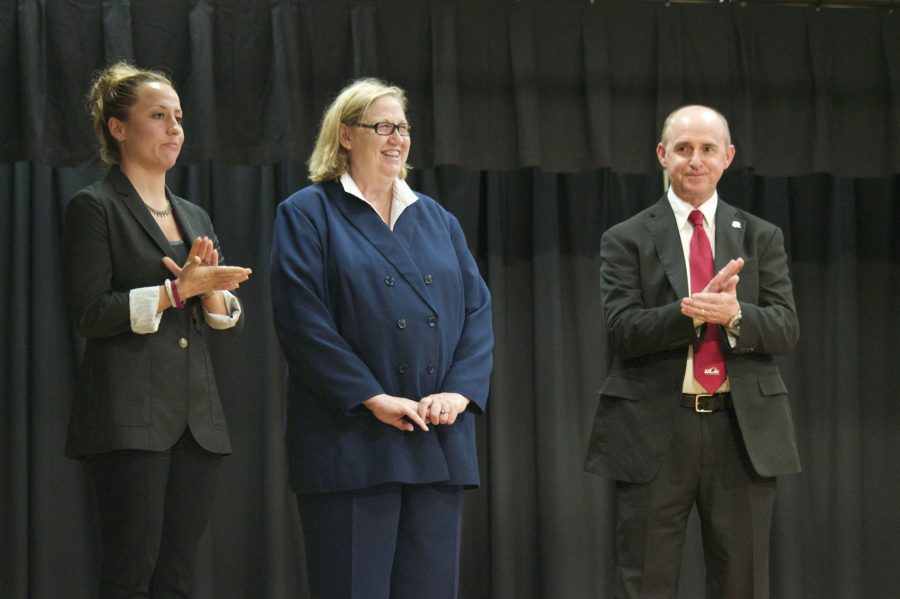 Traneshia Stormer
April 7, 2014
Student Title IX Training urged students Thursday to be knowledgeable about consent, dating violence, sexual assault and boundaries.
April is sexual assault awareness month.
Before the presentation, the Violence and Intervention Program held "Walk a Mile in Her Shoes." The mission was to create a united gender movement where men will be a part of the solution to end sexualized violence by marching a "mile" in heeled shoes.
Pamela Saulsberry, director of the School of Behavioral and Social Sciences, was the coordinator for the event. This was the first year the event was held on campus.
Wayne Brumfield, vice president of student affairs, along with two male students, participated in the event.
"These heels really hurt, but I'm absorbing the pain because it's important for all men to understand the importance," Brumfield said.
Saulsberry said, "A walk like this helps to change the consciousness of men and puts them in the position of thinking that they can do something to prevent this."
Saulsberry wanted all participants to be aware of sexual violence, relationship violence and gender violence.
Wesley Johnson, attorney at law at Escamilla, Poneck & Cruz, LLP lawfirm, presented the Student Title IX training.
Johnson referred to many different cases from 2013 and 2014. Johnson told stories throughout her presentation and said she hoped it would help students remember something from the presentation at the right time.
Failing to obtain consent and not understanding "no" can result in a crime, like simple rape. Sexual assault with a voluntarily intoxicated victim is also a crime.
Pamela Jackson, interim dean of students and Title IX coordinator, said it was important to advise students that ULM will take immediate steps to investigate a complaint or incident with prompt action to end the harassment.
If an incident occurs, students are encouraged to report them to the UPD, local police or file a complaint online at www.ulm.edu/titleix.
no images were found