Protests continue in spite of violence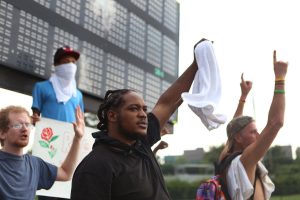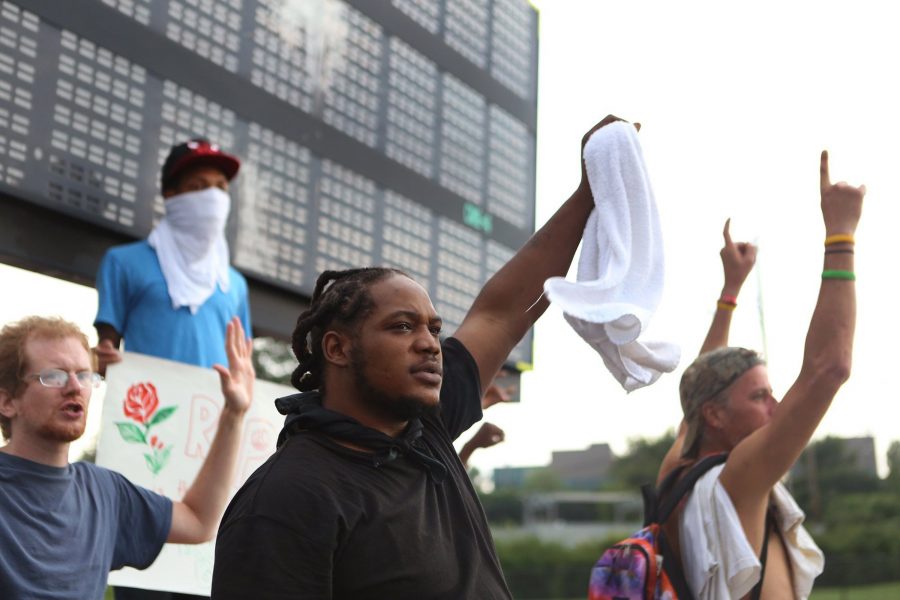 Although the Missouri National Guard was deployed and a curfew was lifted Monday, what began as a peaceful demonstration here turned restive after dark, as this racially polarized St. Louis suburb hunkered down for another night of painful protests stemming from the police killing of Michael Brown..
Authorities ordered protesters to disperse. Tear gas wafted over the darkened streets. But the standoff continued, and police made several arrests.
A pathologist for the Brown family said his preliminary autopsy suggested no sign of a struggle by the unarmed black man. U.S. Attorney General Eric H. Holder Jr. would visit Ferguson on Wednesday, and Holder announced that FBI agents had conducted several new interviews in the neighborhood where Brown was killed.
Police have said Brown, 18, was shot after confronting Ferguson Police Officer Darren Wilson inside his police car. But at least one witness who was with Brown that afternoon has said Brown was shot as he walked away from the officer with his hands raised, then was struck by additional bullets.
Dr. Michael Baden, a renowned New York forensic pathologist who performed a preliminary autopsy for Brown's family, said Brown had been shot at least six times and probably could have survived all but one. 
Local officials also have performed an autopsy, but its findings have not been released.
Although Ferguson was not under curfew Monday night, police told demonstrators that they needed to keep moving and avoid congregating on sidewalks and parking lots.
Missouri Gov. Jay Nixon issued the executive order early Monday to bring in the National Guard, saying in a statement that its "limited mission" will be to protect the command post so local law enforcement officials can ensure the safety of peaceful demonstrators..
Raya Boyte, a senior political science major, said she still believes racism to be a major factor in tension.
"While we have made a great step in decreasing racism in our country over the last 60 plus years it shows there it is still there at some level."  Boyte said.
Connor McCain, a junior political science major, views the situation as "sticky."
"I have a lot of respect for officers who serve and protect. That badge doesn't make you the law though. You enforce the law, not create it."  McCain said.