Deacons didn't see it coming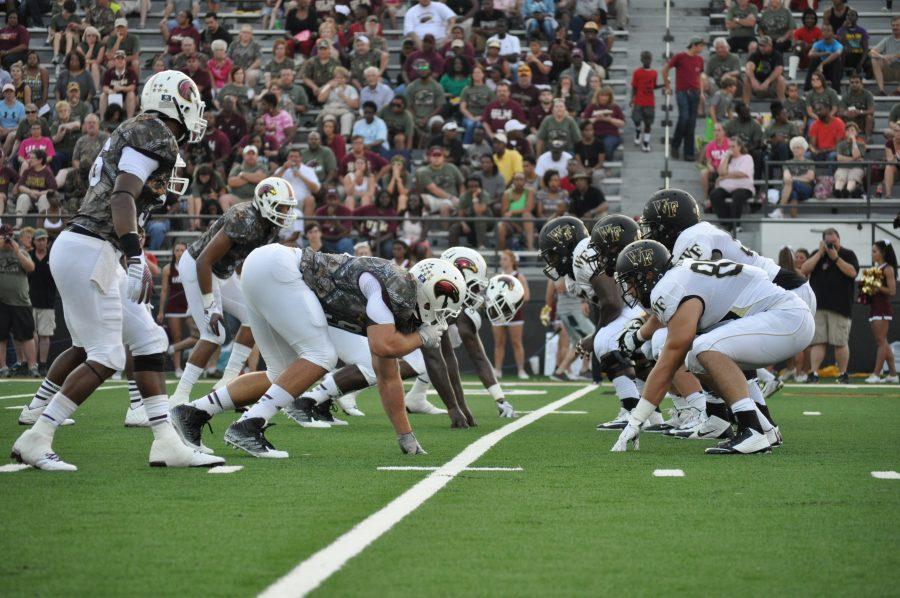 Dakota Ratley
September 1, 2014
The Warhawks grinded out a 17-10 win to kick the season off on Thursday in front of the camouflaged crowd at Malone Stadium.
The game started roughly for the home team. ULM's first drive resulted in a three-and-out and a blocked punt returned for a touchdown. Wake Forest would tack on a field goal in the second quarter to bring the score to 10-0 going into halftime.
The game did not turn around until late in the third quarter when Justin Manton got the Warhawks on the board with a 30-yard field goal. ULM's defense then created the biggest play of the game when Mitch Lane picked off a pass and returned in 31 yards for a touchdown.
"I was just glad to be in the right spot at the right time to make the play and change the momentum of the game," Lane said.
The score stayed locked at 10-10 with 3:37 left in the fourth quarter when senior quarterback Pete Thomas ran in a 9-yard draw to put the Warhawks up for good.
The defense did most of the heavy lifting for the team, only allowing 94 total yards to the Deamon Deacons. The Warhawks defensive front went after freshman quarterback John Wolford. ULM recorded seven sacks and held the team to negative four yards rushing for the whole game. 
Coach Todd Berry said that the defense played "superb" and that he had been looking forward to seeing what the defensive unit could do.
Pete Thomas managed the game well in his first game at ULM. The transfer from North Carolina State put up 189 yards on the day with no turnovers. 
The ULM rushing attack offensively led the way with the senior running back Centarius Donald racking up 122 yards on a career high 26 carries. Junior Tyler Cain also saw action, running for 46 yards on 11 caries. Senior wide receiver Kenzee Jackson topped the receiving corps with 83 yards on six catches.
Berry said that the team is determined to be successful this year.
"I think that this group is happy with the win, but I don't know if this group the whole season is ever going to get satisfied," he said.
The game marked the first "camo-out" in NCAA history. ULM wore special camouflage jerseys for the game. Willie Robertson from Duck Dynasty was also there as a special guest. 
The Warhawks will now turn their attention to their first conference game of the season. ULM will play host to Idaho on Saturday at 7 p.m. at Malone Stadium.
 That game will mark the beginning of Sun Belt Conference play for the Warhawks.