New quarterback fills big shoes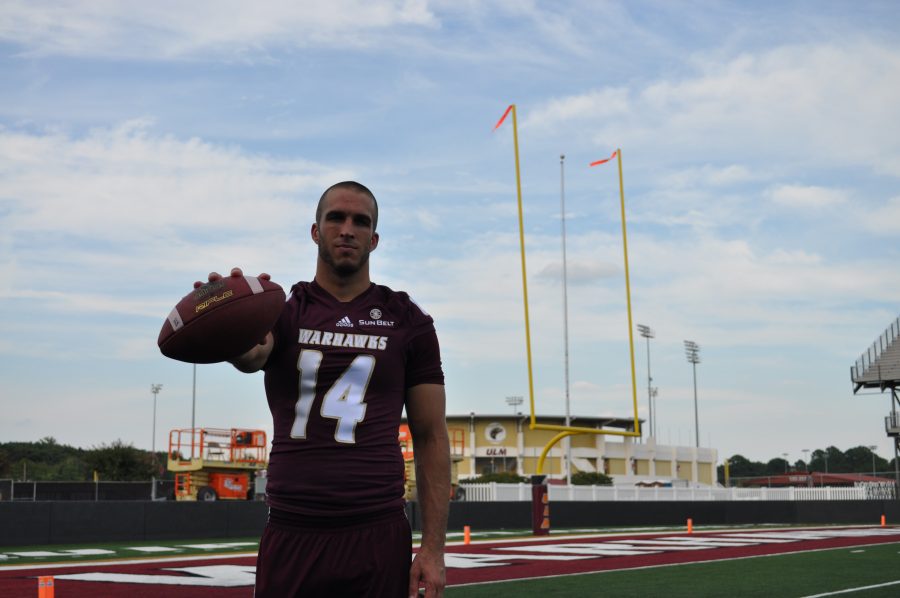 Dakota Ratley
September 1, 2014
Monroe is 1,628 miles from quarterback Pete Thomas' hometown of El Cajon, California, but the senior transfer now calls Monroe home.
El Cajon is located right outside of San Diego. The city with a population of around 100,000 is nicknamed "The Big Box." Pete Thomas broke out of that box.
The quarterback starred at Valhalla High School. He started for three years in which he amassed career totals of 5,775 yard with 47 passing touchdowns. The four-star recruit was named first team all-state his junior and senior seasons. He also made an appearance in the Offense-Defense All-American Bowl. Furthermore, he was named the San Diego Union-Tribune's Student-Athlete of the year after graduating with a perfect 4.0 GPA.
Thomas bounced around the country en route to his present home in Monroe. He originally signed at Colorado State. He started for the Rams for two years. He compiled quarterback ratings of 124.5 and 116.1, respectively.
He then transferred to North Carolina State where he had to sit out a year per NCAA rules. He played in 9 games for the Wolfpack. 
He has now settled at ULM.
"I wouldn't want to be anywhere else right now. Coach Berry is a great coach, and I'm excited to be playing for him," Thomas said.
Meanwhile, ULM is looking for Thomas to fill the void left by four-year starter Kolton Browning. Browning was there for the rise of the program. His play in 2012 led the team to the upset victory over then eighth-ranked Arkansas, one of the biggest wins in school history. That year the Warhawks went on to go to their first ever bowl game, the Independence Bowl. Browning also holds numerous school records.
"Obviously he's a great quarterback. He was an integral part to building this program," Thomas said.
In addition to being the Warhawks' star player, Browning also was a leader in the locker room. Thomas quickly filled that void he left.
Head coach Todd Berry said that Thomas has stepped into the leadership role well.
"Leadership comes from work ethic, and Pete's got a great work ethic. Leadership comes from a care level about the rest of the guys on the team, and Pete has embraced the team and thusly the team again has embraced him," he said.
In addition to this leadership, the playbook has changed drastically. Browning was known for his scrambling ability and making plays on the run. Thomas is more of a pro-style quarterback that enjoys staying in the pocket.
The changes mean that Thomas won't be running all over the field and running multiple read options each game. 
The vastly different offensive styles are sure to make Warhawk football look a little different on Saturdays.
Despite the apparent differences, senior offensive lineman Ben Risenhoover said that they have comparable work ethics.
"Pete, just like Kolton, is a smart football player. Both of them love the game. They get in and watch film which is encouraging because like last night, and every game day, we know that we can go out, and he knows what's going to happen and he can get us in right situations," he said.
Thomas started his career off at ULM with a win Saturday over Wake Forest. With the score tied at 10-10 late in the fourth quarter, Thomas took the snap and ran it in on a draw. 
It was almost as if ULM was playing one last tribute to the player who led the team to national recognition. 
It wasn't Browning who ran it in. It was Thomas. The new era of ULM football had begun.