MRC in need of longer hours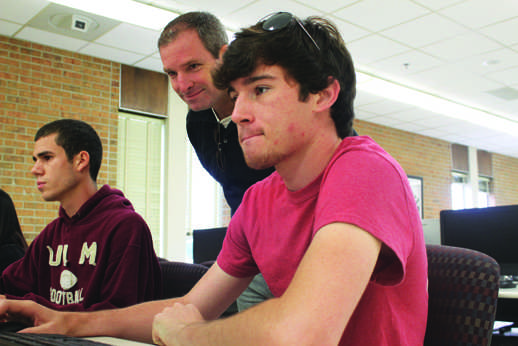 The Math Resource Center is used as an option for those who are unable to work on assignments at home and as a place where students are able to receive assistance with their math courses. Professors and student workers assist students with their work and help those struggling to learn a subject.
After a fire in Walker Hall, the MRC was moved to the library. Recently, the MRC has been moved back to its original home in Walker Hall. 
The Walker Hall location has two more computer stations and is more contained than the location in the library. This allows the MRC to keep track of the students that have signed in as well as fit more students in at one time. 
Students that are taking math 1009, 1011 and 1012 are required to go to the Math Resource Center for a certain number of minutes each week to pass their course. In only one week, around 1,500 students showed up to the Math Resource Center. 
Many of those students had to wait in the hallway due to a lack of computer availability in the MRC when they arrived. 
"I feel that the Math Resource Center needs more qualified staff on hand," Chantel Davis, a freshmen pre-pharmacy major, said.
The MRC is also used for testing, adding to the number of students that come to the MRC. 
Kaitlyn Thiels, a freshman toxicology major, was worried about the number of people affecting her own ability to get work done on time. 
"I think there are too many people signed into the same site, that is making the computers slower," Thiels said.
The director of the MRC, Telitha Doke, is looking to increase the number of hours that the Math Resource Center is open. Doke believes it is all a matter of the availability of funding. 
Doke said that if the MRC can increase the number of hours they are open then it would be announced in students' math classes.