Come for screaming, stay for football game
Olivia Barfield
September 14, 2014
Hang on for a minute...we're trying to find some more stories you might like.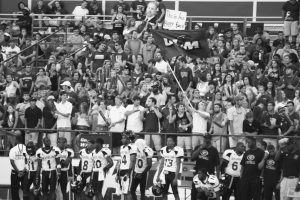 There are some people that live and breathe football, there are some that simply enjoy it and there are others who sincerely couldn't extract joy out of a touchdown for their lives. 
If you are one of these people, I want you to know that it is perfectly fine. Not everyone's cup of tea can be filled with sweaty boys wearing matching jerseys. 
However, I do strongly believe that everyone's cup of tea should be filled with fun. 
And that's why even if you hate football, you should attend football games. 
Let me start by beating down the misconception that you have to actually know what's going on to enjoy a football game, because it is far from true. I've seen plenty of people get by without any knowledge of the sport. But how do you enjoy the game if you are helplessly lost? 
You scream. 
Let's say you live on campus. Now imagine yourself sitting in your room. Now imagine yourself sitting in your room screaming like you've lost your mind. 
Chances are someone is going to come tell you to shut up. 
The rights of students to freely shout are becoming more and more oppressed, but not at the great American football game. 
At a football game, you can let your vocal chords vibrate freely. 
Go ahead. Break the sound boundaries that you've been taught to stay within in the library. 
You can even get away with being a jerk at football games! Where else are you going to be able to boo and constantly harass a group of huge athletes? 
Try it anywhere other than the student section of Malone Stadium, which is conveniently located right behind the opposing team, and you are likely to be beat up. 
Why would you want to miss this kind of opportunity?
If you like to dance, come to dance! If your dancing isn't good enough to be called dancing, then hey, join us for celebratory movement! Music isn't a rarity at our football games and people to dance with aren't either. You won't be dancing alone.
As a ULM student, football games are free! Do you broke college kids hear me? Zero dollars down! You can actually earn stuff for coming to the game through the Ace's Army program.
At a football game, there is no pressure for you to contain yourself for a whole four quarters plus halftime.
If you hate the football, then come for our Sound of Today band, Hawkline or cheerleaders. 
Come to dance with talons out to the music booming from the scoreboard. Come to visit, to dress up, to dress down or to eat weird spiral potato fries. 
You could even come just to check your program to see if you've won a $50 Newk's gift card. 
Whatever reason you come, you are sure to enjoy yourself once you are cheering among your fellow Warhawks or just screaming because you can.