Student-athletes reciprocate their gratitude
Dakota Ratley
September 21, 2014
Hang on for a minute...we're trying to find some more stories you might like.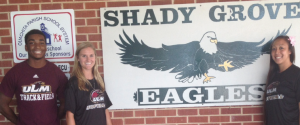 Some student-athletes are given tuition, meals and housing. Many have now chosen to give back.
The Student-Athlete Advisory Committee consists of student-athletes from colleges all over the nation. 
Its duty is to be the group that acts on the athletes' behalf in dealing with the administration.
ULM SAAC president Mackenzie Miller said the organization is very important to the student-athletes.
"As far as athletics go, there's a lot of things that people don't know or don't think about. And it's important that at least a representative or someone on the team knows what's going on," Miller said.
SAAC acts as the middleman in affairs between the administration and student-athletes.
 For example, if a professor did not honor the university excused absences for competitions, SAAC would be put in charge of contacting the administration to work it all out. 
The SAAC is also very important to the NCAA as a whole. SAAC is the organization that the NCAA goes to in order to get a response from student-athletes on proposed rule changes.
The group is also involved in a variety of community service projects.
ULM's SAAC participated in its first community service project on Monday, September 8.  The SAAC provided school supplies to Shady Grove Elementary School in Monroe.
Shady Grove principal Jerlyn Bobo said that she was surprised by the service.
"For someone just to call us out of the blue that we've never really had contact with, it's a great feeling," Bobo said.
Bobo said that the supplies would be much appreciated. 
Those supplies will go to students who may enroll late or have trouble getting all of the supplies needed. Bobo said that they "need all the help they can get."
Michael Anderson formerly ran SAAC. When he left, the administration looked for the next leader for the organization. They grabbed Anderson's roommate and friend, Seth Hall.
Hall already had experience with SAAC before his hiring at ULM. Hall ran on the track and field team for four years. 
The West Monroe native said he was thrilled to be offered the job.
"I like the direction it's going in. I think we're going to accomplish some things that haven't been accomplished yet," Hall said.
The organization is not able to do all that it wishes to do. This is in part to the hectic schedule of student-athletes.
Many have practice almost every day and games once or twice a week. This is added to the standard course load of a college student. 
This makes planning more community service events very troublesome.
Hall and Miller both stated that SAAC is weighing options of where and when to do their next event.
Hall said that some options include working at local soup kitchens, the Louisiana Baptist Children's home and possibly the Big Brothers Big Sisters Organization.
Miller said that they hope to have each team do a community service event as a team.
"We have been given a lot as athletes, we have talents we should, you know, share, we do represent the school, so I think it's important to get involved with the community and give back," Miller said.