She's beauty, she's grace, she's Miss Troy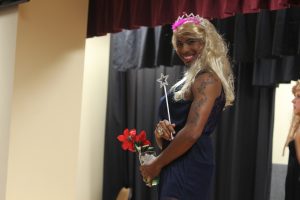 Adrian LeJeune wasn't the only queen crowned last week. On Thursday, six lovely ladies stood on stage in the SUB Ballroom, but only one walked away with a first place $400 prize.
Kenya is the name. Kenya Swallow Harddik. Say it slow for it to make sense.
Marc Calhoun created Kenya to make sure the audience had a show and everybody left with a smile on his or her face. He originally had another name in mind.
"My name was gonna be Ophelia Cumming but I changed that because Ophelia Nuts wanted to come in, pun intended, and interrupt my greatness," said Calhoun, a junior biology major.
Calhoun believes the Miss(ter) Pageant shows how interactive ULM is with the student body and gives them a relaxing fun time. 
"We make them laugh and realize why they chose ULM to be their school," said Calhoun. "This is a good look for ULM. It brings a lot of attention."
Calhoun said preparing was hard because of everything else he had going on, but he was determined to enter the pageant with a bang.
"My biggest competition was definitely the old woman of the show, Mrs. Surefire," said Calhoun. "She had a lot of wisdom and showed off a lot of her great talent such as bathing."
The only thing Calhoun was nervous about was performing his song. 
He still won the crowd over with his lip-synching a dance with the microphone stand.
His favorite part was the end of the show when his fellow contestants were ready to fight over the crown.
One eager contestant in particular was Riccie Gray as Anita Woodcock. The crowd's shock rang through the ballroom as Gray took his wig off.
What exactly went through Kenya's mind when a faux fight broke out on stage?
"Get out the way girl, you're gonna win anyway," Calhoun said.
Christopher Adkins placed third as Ophelia Nuts. He had nothing but nice things to say about his fellow contestants.
"They're all nice ladies and I'm glad I got to know them over the last day and a half," said Adkins, a junior pre-pharmacy major. 
Pharmacy student Rino Nicholas, returned as Cho Khan Deek to serve as co-host. He placed second last year.
"It was great to come back and I would love to come back next year," Nicholas said.
He believes the competition was fair and that Kenya deserved her crown.
"She is poise and classy and she almost got in a fight but she didn't," said Nicholas. "And the fight with Anita Woodcock, well I could've taken her. She wasn't that big. Whatever."
Calhoun said Kenya would like to thank the audience and all of her fans. This was Kenya's first performance and probably her last. 
She appreciates everything her fans have done for her including the "trophies and scholarship money."
"She's going to pursue her career in modeling and interpretive dancing," Calhoun said.
See more photos at: https://www.ulmhawkeyeonline.com/?p=15642