Homecoming heartstopper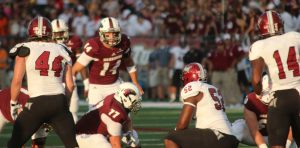 Turning point
Justin Manton's 29-yarder toward the end of the fourth quarter was the turning point of the game. The game was a back-and-forth battle where the teams traded the lead four times. Manton's three field goals were key, with none being more important than the one at with 2:08 left in the fourth quarter that put the Warhawks up for good.
It was over when
ULM's defense held strong on Troy's final drive. Troy's drive started promising with the Trojans quickly approaching midfield. The Warhawk pass rush came up clutch, with defensive lineman Joey Gautney and linebacker Cody Robinson coming together for a sack. Troy gained five yards in to plays to bring the drive to a critical fourth and 11. The pressure once again rushed the Troy passing attack, with Ray Stovall delivering a huge hit to the quarterback to force an incompletion and to secure the win for the Warhawks.
Unsung hero
Justin Manton nailed three field goals in this game. None were more important than the 29-yarder with just over two minutes left in the first quarter. Manton also helped the Warhawks control the field position battle, nailing Troy inside the 20 three times. Two of those punts were downed inside the Troy two-yard line.
Play of the game
Pete Thomas connected on a 64-yard throw to Ajalen Holley with 5:54 left in the first quarter. Holley broke away from the coverage and got over the top of the defense when Thomas' pass hit him in stride. Holley would outrun the pursuing secondary to score.
What this means
The Warhawks now move to 3-1 overall, and 2-0 in the Sun Belt. This put ULM into a tie for first place with Georgia Southern in the conference. Looking ahead
ULM will now travel to Jonesboro, Arkansas to face Arkansas State in a key Sun Belt game. The Red Wolves have not played a conference game yet and hold a 2-2 record on the year. Arkansas State was picked to finish second in the Sun Belt in the preseason conference poll.