Bobcats buzzkill for Warhawks
Dakota Ratley
October 26, 2014
Hang on for a minute...we're trying to find some more stories you might like.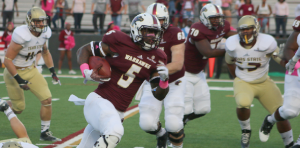 The Warhawks squandered a 15-0 advantage, allowing Texas State to record a comeback victory.
ULM dominated the first half. The Warhawks were led by kicker Justin Manton who recorded a career long field goal of 51 yards to go along with a 43-yarder.
Centarius Donald would score the Warhawk's only touchdown on a 6-yard run toward the end of the first half.
ULM started the second half strong recording a safety.
Texas State would come alive with a Robert Lowe 15-yard run.
Manton and the Warhawks would answer back with a 28-yard field goal.
It would be all Bobcats from there, as they would score on a 40-yard pass with 6:50 left in the fourth quarter.
Texas State would take the lead on a Robert Lowe 21-yard scamper.
The Warhawks are now 3-4, with a 2-2 record in conference, and have now lost three straight games.
The Warhawks will travel to play Texas A&M  next Saturday.