Mountaineers rock Warhawks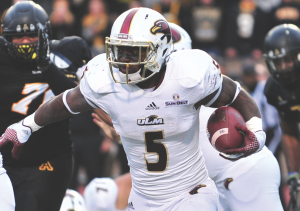 Turning Point
Appalachian State's 39-yard field goal put them ahead 31-29 with just 29 seconds left in the fourth quarter.
The Warhawks had a one point lead with 1:42 left in the  game. Appalachian State would use a seven play, 53-yard play drive to set up the field goal.
The drive was assisted by two crucial pass interference calls that boosted the Mountaineer drive forward.
This drive came with the momentum clearly against the Mountaineers after a go ahead Warhawk touchdown.
It was over when…
When the clock hit all zeroes.
It's cliche, but it's true. This game went back-and -forth with neither side getting a sizeable advantage.
The Warhawks got off to a 20-7 lead midway through the second quarter before two scores within three minutes would give Appalachian State the lead going into halftime.
ULM would take a late lead on a fourth down touchdown pass to Ajalen Holley from Pete Thomas. 
The Warhawks could not get anything going on their final drive.