Warhawks past, present explore campus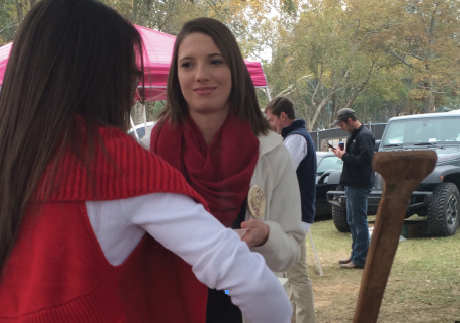 Hang on for a minute...we're trying to find some more stories you might like.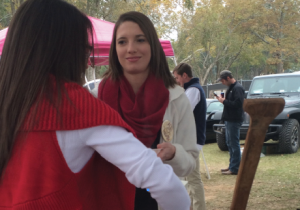 ULM showed future students a glimpse of what the campus offers while the Warhawks geared up to take on the infamous ULL.
Browse on the Bayou is a campus visitation day for high school juniors and seniors. The propsective Warhawks get to tour campus and residential buildings, attend sessions focused on their academic interests and attend a showcase of ULM's different academic programs, clubs, sororities, fraternities and services.
Kourtney Brown enjoyed attending and helping with Browse on the Bayou even as a current student. She said it is a great opportunity for incoming students.
Brown said that it was helpful for future students to be able to speak to professors and current students.
"That makes it a little more relatable. I think it's just very eye-opening for incoming students. I love that every department comes out here and shows what they have to offer, because a lot of kids don't know," said Brown, a junior occupational therapy assistant major.
Future college students at Browse on the Bayou enjoyed the event. Karlee Tate said that she enjoyed touring the campus.
"It's really helpful and informational, and it's taught me a lot," said Tate, a future pre-pharmacy major.
Other propsective students liked the ability to meet and talk with current faculty members from various departments. Kayla Sanchez said she had friends at ULM.
"I toured the campus and was told that the people, the staff, are really personal," said Sanchez, a future kinesiology major.
ULM's Browse on the Bayou didn't just showcase its programs; it also showcased its people.
"My favorite part of Browse the Bayou so far is the people; they're all really nice, friendly, and helpful," said Monica Williams, a future nursing major.
Parents of future students also praised the university and the event.
According to parents, one of the most striking aspects of the campus was its appearance. Tammy Pitman, a parent, said the aesthetic of the school was impressive.
"It looks inviting for students," Pitman said.
Future students' parents said they found the size of the university appealing.
Parents of current students also participated in Saturday's many activities.
Parent's Day is hosted by SGA and invites parents of current students to visit campus, spend time with their child and attend a football game.
Parents had the opportunity to experience tailgating along with students before the game.
ULM's 31 Ambassadors held the 30th annual Chili Cook-Off in The Grove.
The theme was the "Red Hawk Chili Shredders" for this year, a combination of a band "Red Hot Chili Peppers" and shredding ULL.
Don Gonnolinni has been competing in the annual Chili Cook-Off for about 20 years off and on since 1989.
"I keep coming back because of the family atmosphere, in my opinion the grove is one of the best tailgating areas in the nation. Its family friendly and inviting and it's nice to be a part of that. We even have competitors come over and talk to us and its great to have that nice cordial company," Gonnolinni said.
This was the first football game for Marie Williams, and she said she's glad it's a cold one.
"This is what it's all about food, family, and football; and chili is always better when someone else did the cooking," Williams said.
Winners of the cook-off were announced in categories such as showmanship, people's choice, student division and overall.
Among the recipients of certificates was Kelly Johnson, a graduate student in speech language pathology and first-time competitor, who walked away with third place in the student division.
"I was looking for a way to support the university and this was a fun so to do it, and winning makes it even more exciting," Johnson said.