5th Congressional District debate descends on campus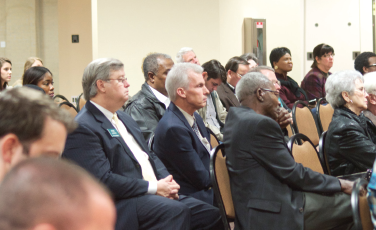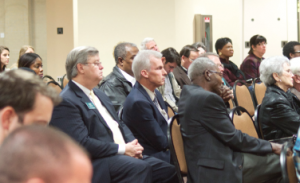 Candidates for the 5th Congressional District seat participated in a debate Thursday in ULM's SUB ballrooms.
After a contentious primary season for the seat held by incumbent Rep. Vance McAllister, candidates Monroe Mayor Jamie Mayo, a Democrat, and Ralph Abraham of Alto, a Republican, emerged from the fray with the top two spots.
As neither hit the threshold mark of 50 percent to put them over the edge to avoid a runoff, the candidates will again vie for votes until Dec. 6 when ballots will be cast to decide a winner.
Thursday's debate was one of the two official debates scheduled for the candidates.
The candidates spent around an hour and a half debating everything from the Affordable Care Act to raises in minimum wage to the Keystone XL pipeline.
The Monroe Chamber of Commerce in conjunction with ULM's Student Government Association put the debate together. This marks the second year a debate for the 5th Congressional District has been held on campus.
Adriane LeJeune, the president of SGA, helped to develop the questions for the debate.
"We sat with a few members of the Chamber of Commerce and discussed topics and bounced ideas around, which we then formulated into questions," said LeJeune, a senior toxicology major.
The debate was moderated in part by LeJeune, and she said she felt the event went smoothly and her questions were answered succinctly.
"I felt they did a good job in getting their viewpoints across and it was interesting to hear all sides of the argument," LeJeune said.
Students came out to interact with the candidates as well as to hear their concerns voiced, especially when it came to higher education and student loan issues.
"I met Abraham in Alexandria when he came to speak to my dad's business and he was really personable and seemed to share my values," said Lauren Lewis, a sophomore finance major.
Dakota Hawkins was looking forward to the discussion of higher education by the two candidates, regarding subjects such as student loans.
"I hope people ask what the candidates will bring back to our district instead of being caught up in enriching themselves in Washington," said Hawkins, a senior political science major.
Higher education was briefly addressed during the debate among other pressing national issues. Student loans represented the one policy area of the night where the candidates found some common ground.
"Students loans represent a huge, huge challenge for students having to come out and repay those loans. Landrieu has a bill in place which would reduce interest rates, and if I was in Congress I would support that," Mayo said.
Abraham said reducing student loan rates at the federal level would be the best option.
"I have three children myself who have student loans. Right now the rate is eight percent and we need to get that down to one percent or even have a program where student loans are forgiven if work is done for the government. I'm all for that," Abraham said.
Opinions swirled after the debate amongst who had performed better and if the points discussed reflected those they wanted to hear.
Hillary Solet said she felt Mayo was not as "classy" as Abraham during the debate.
"Mayo claims to work across party lines but attacked Republicans every chance he had," said Solet, a senior political science major.
Early voting will begin Saturday Nov. 22 for the run-off elections statewide.