Warhawks plow through Aggies
Dakota Ratley
November 23, 2014
Hang on for a minute...we're trying to find some more stories you might like.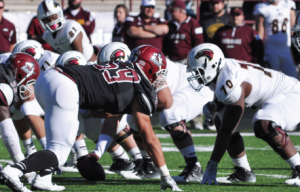 Pre-game
Both teams came into the game riding lengthy losing streaks. The Warhawks were coming off a streak of six straight losses while the New Mexico State had loss eight straight. The Warhawks had played every opponent close with each of the last for games being decided by a touchdown or less. ULM was coming off a heartbreaking loss at the hands of ULL. New Mexico State was rested up after a bye week. Their last action was also against ULL. The Aggies lost by the score of 44-16.
Key play
With the score 20-17 in favor of the Warhawks, the ULM defense forced a NMSU punt. The ball was snapped and ULM's Alex Johnson took off toward the punter. The sophomore was able to block the kick. Mitch Lane jumped on the ball in the end zone, giving the Warhawks a 27-17 lead. From that point on, the Warhawks controlled the game, not allowing the Aggies to score. A Justin Manton field goal would seal that final score at 30-17 and give the Warhawks their first win since Sept. 27.
It was over when
The second half started. The Warhawks have struggled in the second half this year, but not during this game. The ULM defense played lights out in the second half, not allowing any points during the final 30 minutes. The Aggies would get close, having the ball at the ULM one. A fumbled exchange would give the Warhawks a chance to jump on the fumble to deny the Aggies a score.
What this means
The Warhawks now move to 4-7 on the year with a 3-4 record in the Sun Belt. ULM will have the chance to even up the conference record next week when they travel to Georgia Southern to face the Georgia Southern Eagles. The Eagles are undefeated in conference play in their first season in the Sun Belt. The Aggies drop down to 2-9 on the year with a 1-6 mark in conference. They will travel to face Arkansas State next.