SGA encourages Warhawks to talk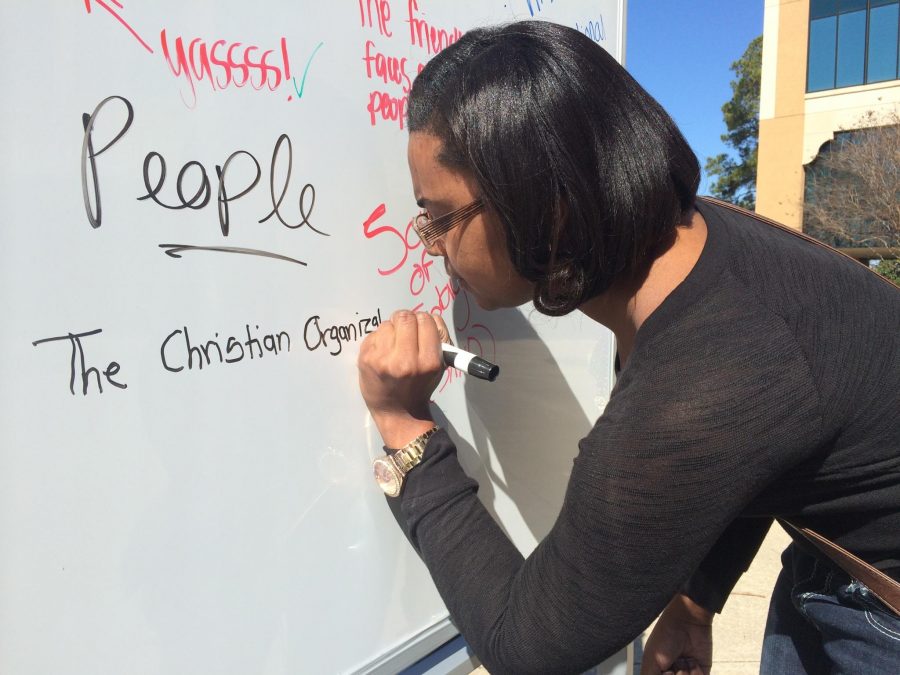 Tyler Smith
February 22, 2015
The SGA set up a dry erase board in the quad on Feb. 10 for students to  write their concerns about the campus. It's called "Let's Talk, Warhawks."
Chelsea Wyatt said the student's voices inspired them to take action.
"We started getting complaints and different students would come to our SGA meetings and tell us what we need more of," said Wyatt,   junior psychology major and department head of campus projects and student services.
Wyatt said it was important for SGA to become more visual so students would know they really cared and weren't "contradicting" themselves.
"Hearing the opinions from the student body is really what motivates us to want to make a change for the students who are paying to go to school here," Wyatt said.
Benjamin Kirkikis is one of the students who wrote, "stress relief activities" on the board, an idea he said is important.
"During exam weeks, people are so stressed out and they're so focused, they need something to take their mind off of it," said Kirkikis, a freshman biology major.
Kirkikis said he expects the SGA to make some of the student's ideas become reality, even if his doesn't.
"Hopefully they will take some of the suggestions people put on the board and do things that can change for the better," Kirkikis said.
Sabra Hanna is another student who wrote "a feminist organization" on the board.
"I think people need to understand what feminism really is and not have these preconceived ideas that we want to be better than everyone else,"  said Hanna, a freshman medical laboratory science major.
Hanna also said a feminist organization is necessary for campus because its important for college students to understand the importance of equal rights between men and women.
She said she is grateful and appreciates the SGA's efforts to connect with the student community.
"It shows that they care and that they're willing to do something we want and to give us a chance to show how we want this campus to look and represent who we are," Hanna said.
SGA board members will have lunch with Bruno and members of the executive board to discuss the ideas written  by students.
The next "Let's Talk, Warhawks" on campus is to be determined by SGA President Adrian Lejeune.