Warhawks take CBI win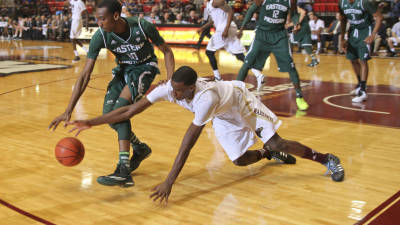 Dakota Ratley
March 19, 2015
Hang on for a minute...we're trying to find some more stories you might like.
The Wahawks flew a bit higher than the Eagles Wednesday night in Fant-Ewing Coliseum.
ULM made the most of their first postseason appearance since 1996. The Warhawks downed Eastern Michigan by the score of 71-67.
The home team held a 16-point lead with just under 13 minutes left in the game.
Eastern Michigan made it interesting, going on a 19-0 run. The Warhawks helped the Eagles' effort by turning the ball over 12 times in the second half.
ULM head coach Keith Richard described the game as a "rollercoaster of emotions."
That ride did not give more of a thrill than in the final two minutes of the game. The
Eagles had a one point lead before senior forward Tylor Ongwae sank a contested step-back three-pointer with 1:41 left in the game.
Eastern Michigan would answer back. The Eagles sank two free throws to tie the game up for the ninth and final time.
Ongwae would rise up for the Warhawks once again. He drilled yet another three-pointer to put the Warhawks ahead for good. Ongwae recorded a season-high 26 points on the night.
The Kenyan said he wanted to redeem himself for his performance in the Sun Belt Tournament semifinals in which he scored zero points.
"I came out, like I was confident enough that I was going to make plays, and that's what I did." he said.
Jamaal Samuel put in 15 points for ULM. He also played a big role in getting the crowd involved by throwing down a couple of dunks for the Warhawks. Majok Deng also tacked on 14 points for the home team.
ULM outrebounded the Eagles' comfortably, 40-27. The home team was able to shoot at about 45 percent clip from the floor while holding EMU to around 38 percent.
The Warhawks now are set to face Mercer in the second round of the College Basketball Invitational.