Up 'til Dawn stays up for good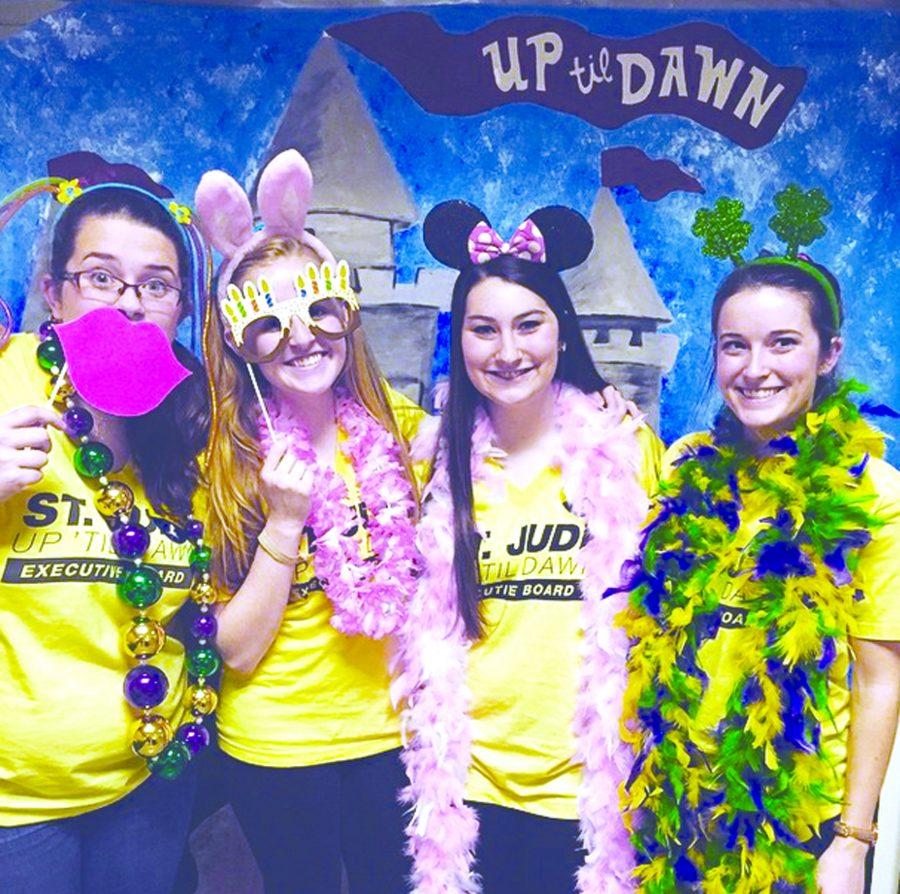 Olivia Barfield
March 22, 2015
Students celebrate fundraising for St. Jude hospital
Up 'til Dawn recently held its finale event to raise funds and awareness for St. Jude Children's Research Hospital.
ULM students that participated in the finale had been fundraising for months and raised $27,050 total for St. Jude.
Students stayed up all night in honor of St. Jude patients and their families who have no choice but to miss out on sleep.
The event was held from 12 to 6 a.m. in the Activity Center, and participants formed teams of six to compete in a night full of challenges.
Games relevant to the St. Jude experience were played all through the night. These events included bicycle races, making paper prom dresses, and a dance-off.
Participants also learned about St. Jude over the course of the night. Jameshia Below, a ULM pharmacy student and cancer survivor, spoke about her St. Jude experience.
Below had a tumor above her eye when she was 11 years old and stayed at St. Jude for three months.
"I'm all about St. Jude, it's really child friendly and they really try to keep everyone's mind off of the sickness. They help you out as much as they can because they know that you're caught by surprise. They try to make it as easy as possible for you as a patient or a patient's family," Below said
St. Jude is a nonprofit medical corporation that provides free care to critically sick children. According to the St. Jude website, "families never receive a bill from St. Jude for treatment, travel, housing and food  because all a family should worry about is helping their child live."
The hospital not only treats children and provides for their families, it is a world leader in developing new, improved treatments for children with cancer. St. Jude creates more clinical trials for cancer than any other children's hospital.
Not only that, but treatments invented at St. Jude have helped push the overall childhood cancer survival rate from 20 percent to more than 80 percent since it opened in 1962.
The hospital takes over $2 million to operate every day, and it is entirely run off of donations.
Students choose to participate in Up 'til Dawn for many reasons. For Courneishia James, a junior toxicology/pre-pharmacy major and Up 'til Dawn Execute Board Team Cultivation Chair, it's for purpose.
"I choose to take part in Up 'til Dawn because it allows me to support something greater than myself. I aspire to live a life of purpose, and Up 'til Dawn is an organization where your sole purpose is to help families cope with drastic changes through research, fundraising, and support," James said.
For Katee Fairchild, a senior pre-medical lab studies major and Exetutive Director of ULM's Up 'til Dawn, it's to find a cure.
"I dedicate my time to raise money for the kids at St. Jude because I would hope that someone would do the same for me if I were a patient or mother of a child there. Cancer has recently been in my family, and I want to do everything within my power to help the doctors find a cure.," Fairchild said.