Sand volleyball heads to nationals Loyola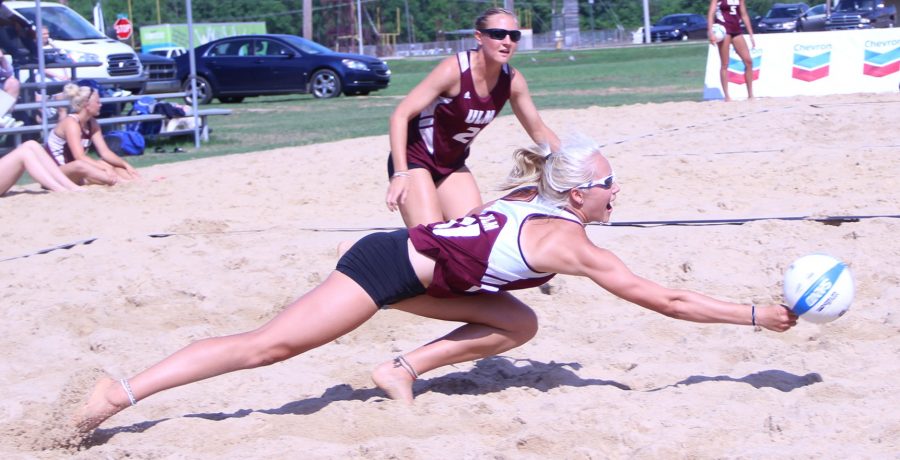 Dakota Ratley
April 26, 2015
Sand volleyball's season ended after defeating Spring Hill to finish the 2014-2015 campaign with a school best 15-6 record.
It did for everyone except Marcela Araya and Michelle McNamee. The pair will compete in the AVCA Sand National Championships. The tournament will take place in Gulf Shores, Alabama, this week.
Head coach David Fischer recognizes what the attention means for ULM.
"People know who we are when we come to tournaments," he said.
This makes the second straight year the Warhawks will make an appearance. Last year, Araya and Zuzana Markova made it to the quarterfinals before losing.
This year the Warhawks were selected as an "at large" bid. The pair is placed in Pool A. The pool includes pairs from Arizona, UAB, LMU and LSU.
Araya and McNamee split the season series with LSU with both pairs taking wins.
McNamee said that facing off with bigger schools does not intimidate the Warhawks.
"I just kind of see them as another team, and just look at them as another opponent to take down," she said.
Pool B is made up of pairs from GCU, Tulane, Arizona, College of Charleston and UCLA.
All-American Marcela Araya believes that the duo can make some noise in the tournament.
"If we get to the focus level we need, we can beat anyone," she said.
The 15-6 record includes wins over  South Carolina, a season sweep of Tulane and a season sweep of UNO.
The pair of Araya and McNamee also grabbed a win over Florida State's No. 1 pair.