eULM history programs ranks top 10 in nation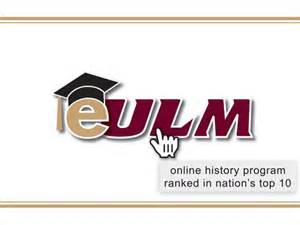 Gwendolyn Ducre
August 17, 2015
The University of Louisiana of Monroe has ranked top 10 in a lot of categories over the years. This time,  TheBestSchools.org ranked eULM's online history program top 10 in the nation.
The program was ranked at number nine out of the 20 that was listed as the best online bachelors degrees in history.
The programs were selected based upon the quality of the program, the types of courses provided as well as school awards, rankings, and reputation.
In a press release, Monica Bontty, associate professor and coordinator of the ULM history program, said this means the program is competitive.
"Any high school advisor, student, or parent can look at the ranking that shows the ULM history program as an excellent and top program. It is no surprise given our outstanding faculty."
Students can earn a degree in history at ULM in world civilization; United States history; historian's craft; regional history; World Wars; Egyptian and Roman history, and more.
Eric Pani, vice president for Academic Affairs, said he is happy to see the master's program and the bachelors program are getting such recognition.
"Earlier this year, the online Master of Arts program in history was ranked as a top program in the country. I am very pleased to see the Bachelor of Arts program in history receiving similar honors and again congratulate our history faculty and the eULM staff for their efforts to offer a quality educational experience accessible virtually anywhere," Pani said.
TheBestSchools.org has ranked other eULM programs among its top performers within the last year.  The site named eULM's educational leadership program number 21 in the nation in Aug. 2014 and in Sept. of 2014, the site ranked eULM as Louisiana's number one online college.