Golf coach swings for excellence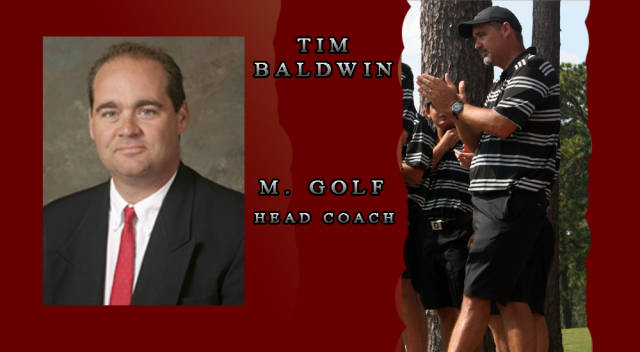 A man sits behind his desk pondering the new challenges before him after twenty-seven seasons replete with success and pride.
He's had a passion for golf since he was little and that passion has led him from becoming team captain of men's golf during his time at Southeastern Louisiana University  to coaching the U.S. to victory in the 2000 Junior Golf Team Championships in Kobe, Japan.
Growing up in Goodrich, Michigan, Tim Baldwin's passion for golf slowly developed, though it was his father's favorite. Baldwin grew up on a golf course.
"I happened to live on a golf course and my dad loved golf. This was our way of bonding and most every morning when I was a kid we played golf together," Baldwin said.
Baldwin eventually attended SLU where he became a four-year letter winner in golf and team captain his senior year.
This passion for the game led him to become an assistant golf professional at Bay Tree Resort in North Myrtle Beach before returning to coach men's golf at SLU in 1988.
There he eventually oversaw 45 team championships, 36 individual championships, eight NCAA regional team appearances, and seven NCAA regional showings with individuals.
"I like the opportunity to take young players and get them to understand what golf is all about," Baldwin said.
After 27 seasons as the head of men's golf at SLU, Baldwin saw a new opportunity at ULM after former coach Walt Williams resigned to become the head of men and women's golf at Le Tourneau University in Longview, Texas.
"It looks like there's a huge support group and I know they want to have a successful golf program. So between that and the opportunity to take the program from where it is now to a program inside the top 50 in the country is what drew me to the school," he said.
The coach brings a global eye to the game not only from his personal experience as coach of a U.S. team competing in a tournament in Japan but also in his recruiting efforts.
Baldwin said, "…After coaching three or four years and only signing one legitimate SEC player, I took a trip abroad to Europe and England. I ended up signing a really good player… From that point on I knew that I could go that route, recruit players that were coming for golf, coming for the school."
Baldwin sees his first priorities as establishing a relationship between the community and his players.