College's art crawl debuts Walker gallery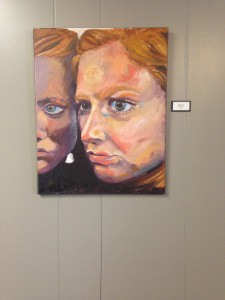 The College of Arts, Education and Sciences hosted its first annual art crawl Thursday.
The art crawl consisted of art from professors as well as student art majors.
It started at Walker Hall in the new "Walker Hall Art Gallery".
Sandi Lemoine was inspired by the student artwork and thought it needed to be showcased.
All they needed was the space to get it started. With the help of her colleagues and a little inspiration they found the space and the funding to make it all possible.
"If I had to choose a piece I would choose them all, the creativity and detail that artist have is amazing and I loved all the art," said Lemoine, Dean of the College of Arts, Education and Sciences.
From the Walker Hall Art Gallery you make your way to the "Waterline" exhibit. It was displayed along the walls of the first floor in Walker Hall.
The exhibit created by Bette J. Kauffman, associated professor of communication consisted of photos from Hurricane Katrina.
Students were also able to write their opinions about the images and some of the events that took place during that tragic natural disaster on the boards.
Heather George, freshman, Pre-Pharmacy major said this was her first time ever coming to an art showcase, so she didn't really know what to expect.
George enjoyed the exhibit and thought the artists really expressed themselves.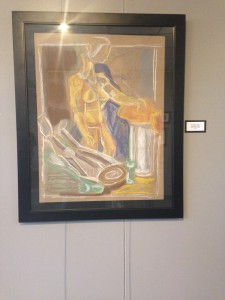 The piece that stood out most to George was "Her Secrets".
This was a picture of a young girl holding her index finger up to her mouth as if she was keeping a secret.
"You can really see what the artist is trying to say," George said.
In the end, George had a better appreciation for what artist do and the message they try to convey.
The Sculpture Garden displayed exquisite pieces from artists that stood three-dimensional.
The piece titled "Everything" by Nathan Pierce was made with steel and wood. "
The detail and the way it lined the wood pieces made it stand out from the other pieces," said Neil White, associate professor.
The final stop was Bry Hall. This showcased mostly professor's work and a few student pieces as well.
This art gallery consisted of pots and a few other three dimensional items.
Angil Manasco, sophomore psychology major, said, "The art gallery was more then she expected it to be."
Manasco was drawn to the pottery. There was a ribbon cutting ceremony that included the dean of Arts, Education and Science, Bruno, along with the professors and directors.
Many are excited and can't wait to see the outcomes in the future.