Diversity helps Pakistan student from catching bayou blues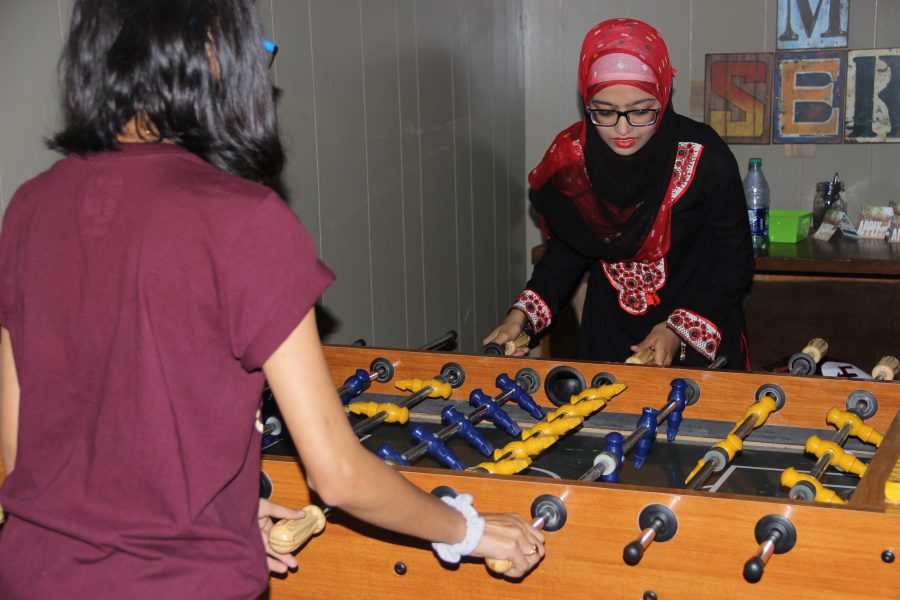 Sisam Shrestha
October 5, 2015
International student adjusts to campus life while remembering home
Assalamualikum: Peace be upon you.
This is how Hafsa Memon, freshman finance major, greets her family and friends back home. Memon is the first international student from Pakistan.
Although primarily a Muslim nation, Memon said Pakistan's citizens also celebrate Christianity and Hinduism in all four provinces.
Memon is a Muslim. She reads the Quran and prays five times a day, even during busy class schedules.
"We have Eid- Ul- Azha soon. I planned to go for Eid prayers, as I do in Pakistan, at a Muslim centre here, but, I cannot go because of an exam that day," Memon said.
Eid-Ul-Azha is one of the biggest festivals in Pakistan. On this day, animals are sacrificed in the memory of one of the Prophets. This prophet planned to sacrifice his own son for the sake of Allah.
Most of the meat is distributed to the poor and the needy while one-third is kept for their consumption.
Memon said as a Muslim she can only eat Halal and cannot eat pork. One problem that Memon faces is that the cafeteria does not offer a Halal option, which forces her to eat vegetarian meals.
"In Pakistan, however, we have biryani, keema, naan and other typical Muslim meals throughout the week. On weekends, families usually dine outside, especially in Chinese restaurants," Memon said.
According to bbc.com, Halal food is that which adheres to Islamic law, as defined in the Quran. It refers to what foods are allowed and how they should be prepared.
Pakistan's official language is Urdu, but she has not encountered much  language barrier.
Memon began learning English at an early age and was mandatory starting from kindergarten.
"I am, however, taking an accent modification course at the Sugar Hall," Memon said.
Many international students struggle with adjusting to the American culture, but Memon did not find it very difficult to adjust.
Memon said, "I had seen plenty of Hollywood movies to help me prepare for this. Also, I have lots of friends here helping me with the change."
Before coming here, Memon feared that she would have to deal with rude comments and name calling due to her beliefs and her hijab.
"ULM has so much diversity. People here don't judge me because of my unusual attire and aren't hesitant to talk with me," Memon said.
After only a month of school, Memon has made many friends from different states. Memon said that even while in a rush people are always waving to say hello and that some people have shown appreciation for her hijab and culture.
Memon represents one of the 60 nations at ULM.
According to Memon, stereotyping is one of the reasons why outsiders could find it harder to be accepted into a new community.