ULM is downed by bite of South Alabama Jaguars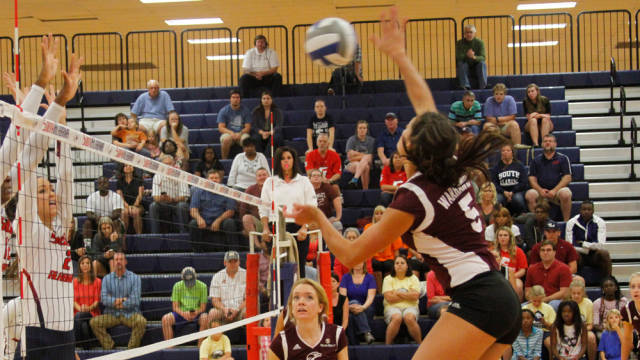 Josh Dean
October 11, 2015
A team high nine kills from junior Hadley Swartz was not enough to overcome the Jaguars of South Alabama as ULM fell in three straight sets.
The game marked the end of a two day road trip culminating inside Jag Stadium Saturday night.
Coach Patrick Hiltz was displeased with the way his team performed on their conference road trip.
"I don't recognize the team that came on this road trip. Hopefully the team I have had most of the season is back in Monroe waiting for me," Hiltz said.
The Warhawks fell behind early as the Jaguars came swinging taking the first seven out of ten points. The onslaught continued and ULM could find no answer for South Alabama's offensive prowess.
Midway through the first set with South Alabama ahead 15-7 the Jaguars went on a 4-0 run to balloon the lead further. After holding off three set points the Jaguars finally prevailed taking the first 25-15.
The second set saw the Warhawks trailing 8-7 early behind kills from Swartz and junior Taylor Zaeske. Five ULM errors proved the turning point as South Alabama turned them into a 6-0 run from which they never looked back. The Jaguars would end the second 25-15.
After surviving an early serving blitz the Warhawks found themselves hanging on in the third down 12-11. A 4-0 run gave the Jaguars the edge they needed and the team completed the sweep winning the set and match 25-18.
The Warhawks were limited to a trivial .056 offensive clip while the Jaguars swung at a .333 pace.                                                                                                                                                                                                                                           ULM faces off against Georgia Southern Thursday inside Fant-Ewing to begin a three game stretch at home.