Jonathan Jarvis encourages students to visit more parks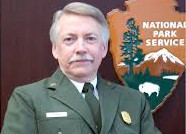 Tyler Smith
October 11, 2015
Casey Albritton said he came to hear Jonathan Jarvis for extra credit, but he never thought he would be sitting at the edge of his seat.
Albritton listened closely to Jarvis, director of the U.S. National Park Service, as he spoke about the importance of preservation Tuesday in Hemphill Hall.
Albritton reflected on his Boy Scout days as Jarvis described the famous Appalachian Trail.
"It's irreplaceable," said Albritton, a junior communications major. "A screen can show you the outside but it can't show you how to experience the outside."
Albritton said there's a "big difference" in looking at the outdoors on your computer and actually experiencing it. He said Jarvis' speech made him realize how disconnected his generation is from the outdoors.
"We need to appreciate what we have. That's what it's all about, appreciating what's there already," Albritton said.
As the U.S. National Park Service approaches 100 years of service in 2016, Jarvis said it is up to Albritton's generation to continue preserving the nation.
"We plan on being here a hundred years from now and another hundred years after that, said Jarvis. "This is our job to protect those places and tell these stories forever."
Jarvis said students at ULM can help preserve the country by starting in their own state. He said places like Poverty Point, Cane River and Barataria are just a few places in Louisiana that students can research.
"Learn about them and then go visit them. Bring your friends and then share that experience with them," Jarvis said.
Jarvis has been with the service for almost 40 years and has served as the director of the U.S. National Park Service since 2009. He said 100 years is "a little bit" about celebration but even more about "the next 100 years."
"It's all about celebration through inviting the next generation to get involved," Jarvis said.
Albritton is eager to start doing his part and hopes his generation will continue to value the preservation of the U.S.
"If you don't remember history, you're bound to repeat it. If we don't remember it, we're bound to forget it," Albritton said.