Women's basketball looks to build off success of previous season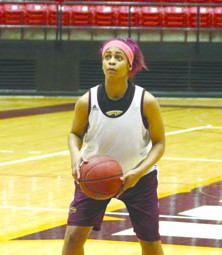 Hang on for a minute...we're trying to find some more stories you might like.
he women's basketball team laced up for their first official practice on Oct.4.
Last year saw a new coach. Jeff Dow brought in and the best overall finish the team has had since the 2010-2011 season.
The team ended up finishing 12-17 overall and 8-12 in conference play.
ULM exceeded Sun Belt expectations and finished three seeds higher than they were picked in the pre-season rankings.
This was behind strong defensive play which held opponents to only 38.8 percent shooting from the field.
Going into this year, many of the starters and members of the team last year are returning.
Coach Jeff Dow said he felt pleased with the amount of returning players and the experience that brings to the program.
"In the short time that we've been practicing its made a world of difference having so many returning players. It's a goal of the program trying to develop that kind of continuity," Dow said.
The team welcomes back seniors Alayshia Hunter, Aundrea Davis and Ashley Aune.
Hunter is expected to assume more of a starting role after coming off the bench last year due to the loss of forward Christina Gray and center Sharnice Brooks.
"I have the speed of Christina but not the height of Charnise. I try to use my speed as my go to in the post and use shoulder shakes and up and unders," Hunter said.
Also aiding the Warhawks in the front court will be newcomers Stephanie Ratliff, Emery Wilson and Dani Anderson.
The back court or guards of ULM's lineup this season will include a mix of veterans and newcomers.
Seniors such as Aundrea Davis and Ashley Aune will share the court with freshmen such as Jamie Gibson and sophomores such as Daja Chase and Chelsea Tieuel.
Chase and Tieuel are expected to figure prominently in the offense this season. Chase averaged 7.6 points and 5.5 rebounds per game her freshmen year.
She had four consecutive double digit scoring performances and finished top ten in the conference in that category.
Tieuel became one of the Warhawk's primary weapons a year ago and attempted the most three pointers on the team.
She also averaged the highest free throw percantage at 77 percent.
The basketball season will feature new rule changes this year including four 10-minute quarters instead of two halves, fewer meda timeouts,and a resetting of team fouls at the end of every quarter.
Coach Dow said he felt displeased when it came to the new rules concerning fouls.
"Last year although we had our challenges offensively we were number one in free throws attempted in the league. Invariably I think we'll end up shooting fewer free throws just because of the foul count resetting," Dow said.
The schedule features prominent games against non-conference opponents LSU and TCU and conference rivals ULL and Arkansas State.