Deng dunks from Australia to Monroe
Hang on for a minute...we're trying to find some more stories you might like.
After crossing the hemispheres of the Earth, he now crosses people on the court in his position as a senior forward for the men's basketball team.
Majok Deng grew up in the African country of Sudan, where he spent the early part of his childhood.
He was born on March 1, 1993, and spent the first seven to eight years of his life in the country.
Despite starting for the basketball team and leading the team in points and rebounds last year his first interest did not lie on the court.
That changed once he moved to Australia near the year 2000.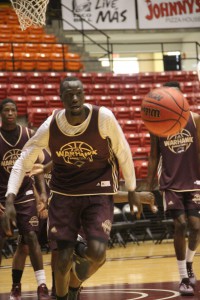 "I played soccer originally and had no interest at all in the sport of basketball. My brother kind of got me into it because he played basketball back in Australia," Deng said.
After spending the next 12 years of his life in the "Land Down Under," Deng moved to the United States to pursue a college scholarship.
His skills in basketball had progressed and he saw a great opportunity to play the sport he now loved while pursuing a college education.
His family immigrated to the U.S. to the state of Illinois. There he attended Indian Hills Community College where he led the team to the 2014 regional and district championships.
"Community college basketball wise was really hard because everybody was looking for a scholarship. Every single day it was huge that you brought it all so that you could get minutes and showcase your talents. That way a division one school could see you," Deng said.
The ULM men's basketball recruiting staff eventually took notice of the 6'10'' forward and Deng was brought to the team for the fall of 2014.
His first season he saw action in all 38 games while starting all but one of them.
Over this time he averaged a team high 10.7 points and 7.3 rebounds per game. He also led the team in blocks with 1.3 a game which ranked third in the Sunbelt.
He was selected All-Conference Third-Team, All-Louisiana Third-Team, and College Sports Madness All-SBC Second-Team.
This season Majok Deng is one of five seniors and four starters returning to the team from last year's CBI tournament run.