$14 million in construction projects moving forward
Olivia Barfield
January 18, 2016
Hang on for a minute...we're trying to find some more stories you might like.
State bonds to fund natatorium renovation, new sorority hall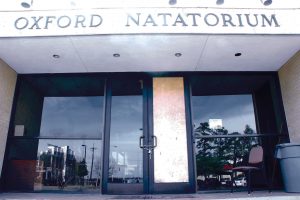 Talk is turning into action as plans to begin some $14 million in new construction projects on campus step into its final stages.
The projects include turning the natatorium into an event center and adding a sorority residence hall.
The university's request to incur $6 million in bonded indebtedness to renovate the natatorium was signed off earlier this month by the State Bond Commission.
Student Government member Allyson Maxwell is excited about the new events center and said it will be gorgeous.
"It will provide a space for spirit groups to practice and will bring revenue to the college if they decide to open it to the public for events," said Maxwell.
The university is also planning to incur around $7.8 million in bonded indebtedness to build a new residence hall for sorority members.
Maxwell said that the new sorority hall will be a great addition to campus as well.
"It will provide us with our own space and rooms so it will free up rooms in the other parts of campus," Maxwell said. Maxwell is a member of Phi Mu.
While many students are happy about the new projects, some are skeptical about the additions.
Dillon Wiley, a junior biology major, is especially concerned about the funding of the sorority hall.
Wiley expressed concern about the possibility of exclusive housing being paid for by all students or taxpayers.
"I'd like to be able to say whether or not this is a good thing for the university, but I can't because of a lack of transparency," said Wiley.
Garry Butler, Coordinator of Student Development, said nothing official has been released regarding how the costs will be covered.
"It's uncertain right now until we get the final details and everything," said Butler.