Accessorize winter wardrobe with chic embellishments
Going outside without the proper winter attire may make it easier to show off your outfit, but it will leave you exposed to the brutal cold. Follow these 10 pieces of winter fashion advice and you too can be perfectly warm and fashionable this Winter.
1. Even a simple scarf can help you keep warm and make you look just a little more fabulous. Learning how to tie a scarf neatly is an easy way to look put together. If you're not u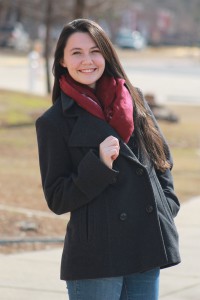 p for constantly wrapping up loose ends, try a circle scarf.
2. A beanie provides a hint of pizzazz while keeping your ears protected but don't be afraid to be bold with your hat choices.
3. Don't want to deal with hat hair? Try earmuffs. They'll keep your ears warm and wont mess up your hairdo.
4. Patterned socks will jazz up your feet and keep your piggies warm.
5. Remember, gloves don't need to be boring.Gloves are very important when the temperature falls further and your hands start feeling numb. It is essential to pick the right pair of gloves as most of our work revolves around the use of hands.
6. Proper footwear is an absolute must. Just make sure your boots fit perfectly. After all, you'll be walking around in them all day.
7. Winter is the perfect time to break out a sassy hoodie. Even a black oversized hoodie can make a statement. Hoodies and zip-ups are fool proof garments when it comes to warmth and comfort. However, sometimes it's all too easy to look like you're wearing sweats or gym clothes when you're rocking a hoodie. Fortunately, there are lots of stylish ways to make hoodies work as part of a fashionable wardrobe you just have to get a little creative.
8. Don't be afraid to layer your clothes. You may not be convinced at first but you'll look great.
9. A vest will keep you warm without empowering the whole ensemble. Vests have excellent layering capabilities and give an instant spiff to your outfit. You could say that vests (second to cardigans) are some of those pieces that can transform your clothes into multiple outfits.
10. When the temperature really drops, though, nothing beats a good parka. There is no rule that says a parka needs to be a dark solid color, so think outside of the box. A novelty print is a surprising way to make a statement when wearing simple, classic work separates.