Soccer kick starts new year with new head coach at helm
Hang on for a minute...we're trying to find some more stories you might like.
Athletic director Brian Whickstrom announced Wednesday that Keyton Wheelock will be the new head coach of ULM's soccer program. "She comes from a great background being at one of the top twenty-five programs in the country for the last three years. She knows that ULM is a family environment and that we're going to work hard. I think with Keyton in the chair we'll compete for Sun Belt Championships," Whickstrom said. Last season Wheelock won South Region Assistant Coach of the Year. She helped the Jaguars to an 18-3-2 overall record including a perfect 9-0 in the Sun Belt Conference. She played goalkeeper at the University of South Dakota as well as Concordia University, Saint Paul. She has coached numerous club soccer teams including Blackhawks Soccer Club, Northstar Soccer Club, and Traverse Bay Area Youth Soccer Club. She has also instructed at numerous soccer camps including Graham Winkworth Soccer Academy, Midwest Elite Soccer Camp and Star Goalkeeper Academy. She holds several soccer related certificates.
How do you hope to instill the success that you've had at South Alabama here at ULM?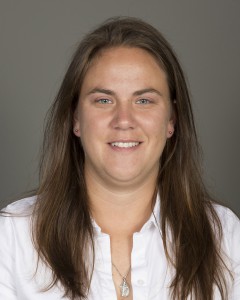 I've had multiple coaching jobs and from them I'll take little things here and there. One thing we do at South Alabama is that we're very black-and-white and honest. We've built a family atmosphere and so everybody works for each other. You don't ask something of a teammate that you're not willing to put in yourself. When you work hard and together, good things happen.
How can you translate your success as an assistant coach into your new role as a head coach?
I've had a lot of assistant coaching experience at the collegiate level and some head coaching experience at the club level. I'll take little things I've done at South Alabama and Tusculum College and then put my own spin on it. I'm going to take what's worked at other universities and put that into my own philosophy and take the next step forward.
What lessons can you take from your run in the NCAA tournament that can assist you in helping our program at ULM?
d then going on to face Florida State, we had to get over the high from that. We had to focus on the task at hand, because if you're living in the past or future you're not going to be successful in the present. The thing that we teach here [South Alabama] is that you never want to beat yourself before you step onto that field. You've got to take every game as a new day and new game no matter what happened the game before. Whether it was us beating LSU this past year 4-0 in the first round of the NCAA tournament an
What have you learned instructing soccer camps and clubs that has helped you at the collegiate level?
With camps you get back to a lot of the basics and technical work which is what spring's about. In the spring it's about getting what we want out of players and what we want for the future of the program. In camps you really focus on the individual and this spring we'll do the same. We'll then work on how that can project into team success.
What can you draw on from your days as a goal keeper to help in your coaching?
You get out of it what you put in. We're going to work. I worked every day as a player. I had off days but my work ethic was never questioned. Every game we're going to go out  and we're going to work. You might have bad days, and I had them as a player myself. But you've got to overcome obstacles and reach for the next step, because if you don't you're never going to climb it. 
What are your priorities for the team this offseason?
I haven't sat down with the players one on one yet, but there will be that first meeting when I sit down with them. It's going to be putting in our work ethic and thinking of how we can take on the conference and move forward with the program. It's making sure that, individually, everyone is buying in to where we're going. We'll have twenty to thirty people on the team come fall and we all need to be working on the same goals and aspirations. I want to make sure that we're all going in the same direction. 
What kind of offensive scheme  or system would you like to implement on the field next season?
As far as that goes we simply look for the best players. No matter what position they play we will look for the best players and then format a system and style of play around those players. I don't ever say we're looking for this position or that position, because if you do that you might miss out on a star. We're looking for soccer players, and from there we'll build our team around that.