Jaguars down ULM in a heartbreaker
Hang on for a minute...we're trying to find some more stories you might like.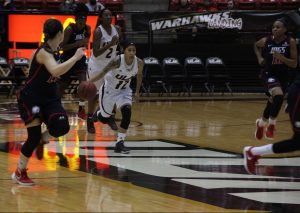 The  Warhawks kept it close against South Alabama Saturday afternoon but it was not enough as the Jaguars pulled away late in the game and won 63-57.
The Jaguars started off the game playing strong basketball down low and went off on an 8-0 run. The Warhawks finally get on the board with two free-throws and end the quarter down 14-9.
With a couple of big 3-pointers in the second quarter ULM was able to find an edge over the Jaguars and ended up outscoring USA 21-16 in the quarter to make it 40-40 at halftime.
Coach Jeff Dow said his team needs to keep on fighting.
"Thursday's win means absolutely nothing if you can't back it up," Dow said.
The Warhawks came out of halftime looking like the same team everyone witnessed on Thursday night.
Senior Alayshia Hunter was strong around the rim and used her post moves to her advantage.
Going into the fourth quarter ULM was up 50-46.
South Alabama came out with a strong fourth quarter, driving to the basket from the key and down the baseline on the Warhawks defense.
The Jaguars forced back-to-back turnovers using a full court press and made it close late in the game.
South Alabama's Colby Davis put the Warhawks away with a 3-pointer with 28 seconds left in the contest.
The shot marked a 17-7 run by the Jaguars in the fourth.
After the Warhawks missed back-to-back free-throws the clock expired and they fell to USA 63-57.
"If things could've worked out we could have moved up to potentially 5th place, now we're back to last place," Dow said.
The Warhawks were lead by senior Alayshia Hunter who recorded 22 points and 9 rebounds in the game.
The Women's team will be back in action this Thursday and Saturday at Fant Ewing colesium as they take on both of Texas Sun-Belt teams, UTA and Texas State.