Softball takes 2 wins at UCA Tournament
The ULM softball team headed to Conway, Arkansas for the UCA Invitational Friday and Saturday.
ULM currently leads the Sun Belt in stolen bases per game, triples per game and fielding percentage.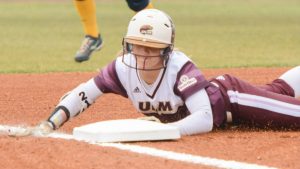 Junior Rochelle Roberts leads the SBC in stolen bases and has converted 15-15 stolen base attempts.
Freshman Sydney Mckay hit both triples earned during the tournament and drove in a team-high eight runs during the five-game span.
Junior Melanie Coyne has become the ace of the pitching staff for the second straight year in a row.
The California native has compiled a 5-2 record with a team-low 2.26 ERA.
Freshman Casey Waterman threw her first complete game and earned her second win of the season as the ULM softball team defeated Arkansas-Pine Bluff 14-2  Friday inside Farris Field.
ULM's offense exploded for six runs in the top of the second.
Mckinley Marks notched three more RBI's in the top of the third when she pulled her third home run of the season over the right field fences giving the Warhawks a 12-0 advantage.
The Warhawks opened Saturday morning with an 8-0  win over Middle Tennessee State..
They took advantage early in the first inning when Roberts advanced home on a steal attempt by freshman Sydney Mckay.
Roberts started the inning with a double but ended up on third because of a field error in  left field.
The Warhawks closed the door on the Raiders 8-5 in the bottom of the sixth inning.
Amye Barre plated sophomore pinch runner Hunter Hogan on a double to left center which activated the eight-run rule in ULM's favor.
In the second game of the day the Warhawkd fell short to Belmont in a 5-4 contest after a late Bruin rally.
Coyne entered the game looking to convert her second save of the season but gave up back-to-back hits, one of which was an RBI triple to make the score 4-3. Coyne struck out the next batters, Wilson lifted Coyne's pitch over the fence in left to win the game.
Ending the game in a 5-4 win for Belmont.