Fraternity hosts 'Black Lives Matter' forum
As Black History Month concluded, Alpha Phi Alpha Fraternity Inc. held a forum to discuss the Black Lives Matter movement.
According to the fraternity, discussion is important to moving forward and making progress.
"Knowing that we have a target on our backs, we have to learn how to control our actions and do what we can on our part to avoid severe consequences," said Alpha Phi Alpha Fraternity in a statement put out at the forum.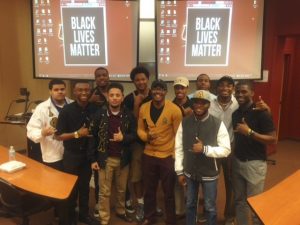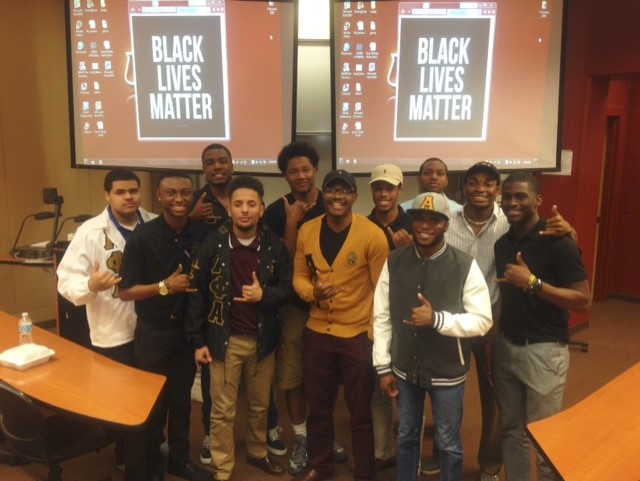 The Black Lives Matter forum was based on the topic of black lives that have been taken due to police brutality. One example is the Travon Martin case when the neighborhood watch gunned him down, ending his life. Some may or may not know the Eric Garner case when he was put into a chock hold by police officers and eventually suffocated to death. They also discussed Sandra Bland, her case was regarding a traffic stop when she was eventually taken to jail and later was discovered that she had died in her cell.
Attendees analyzed each situation and their separate outcomes.
"You have to look at both sides of the story, not just the violent side that took place…it's important to understand the entire story," Jalen St.Romain, junior, kinesiology major said.
Throughout the forum there were questions and answers between every segment. The forum brought you the opportunity to speak up as well as hear others' opinions about the Black Lives Matter movement.
Some students were worried about the future of African Americans in America.
"I feel that the battle of police brutality and African-Americans is getting worse. Recent media exposure has only intensified society's perception of this issue causing increased racial tension amongst opposing sides," said Alexis Porter, senior health studies and marketing major.
There was a lot of action going on throughout ULMs campus this year for Black History Month; as it comes it a smooth ending many are excited to see what's in store for next year.