Yapalooza encourages expression
Sisam Shrestha
April 11, 2016
Hang on for a minute...we're trying to find some more stories you might like.
Biannual event lets performers give a piece of their minds
The Yapalooza, a unique event with a unique name, featured five performances by students and professors on Thursday.
A collaborate effort between the ULM Communication Program and the Speech and Debate Forum, it featured speeches, poems, monologues and more. The performances ranged from folk stories to an argument that Chick-Fil-A is the best place to eat.
According to Catherine Wilson, associate professor of communication, the name "Yapalooza" originated from the interest of people in the communication field to talk, or as Wilson put it, "yap".
The event began with Wilson and her expressive performance of a traditional Irish song.
"It was an intriguing experience because I've never heard a story told through song before," said Jackson Mehringer, a sophomore atmospheric science major.
Anjan Pandey, a junior computer science major, attended the Yapalooza for the first time said it was "informative, sarcastic, funny and motivational all at the same time".
Pandey's personal favorite was the spoken word rap by DJ Jones.
"According to him, all humans are born innocent and unbiased, but the society where we live and our culture inject the negative thoughts about the color, tradition, costume, behavior and much more that provokes sexism, racism and all those things," Pandey said.
The event also featured Casey Albritton performing the famous Calvin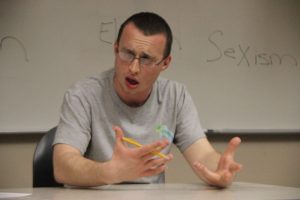 and Hobbs comic strip. Albritton used a pencil to frequently switch between a real life Calvin and the imaginative mind of a six-year-old.
"The most interesting part was perhaps the cartoon skit. You had to keep up with the characters that were being played by the same person and the actor really brought the cartoon to life," Mehringer said.
Haley Plunkett, a communications major, presented a one-point persuasive argument titled "A Great Place to Eat and Work", which established Chick-Fil-A as the best place to eat in America.
Pandey found that the event was very entertaining and said that events like this are important to students and faculty.
"These events provoke thoughts, provide refreshment and knowledge and build up our confidence about the issues that are discussed," Pandey said.
According to Wilson, every Yapalooza event is different from the others in terms of length and subjects. The theme and content usually depends on the performers' interests and also on the
faculty members. Yapalooza provides interested students a platform to word their thoughts and express their beliefs though performances.
The Yapalooza is held every semester.
The event concluded by awarding scholarships from the ULM Speech and Debate forum to four students who had excelled in the field of advocacy in various ways.
The scholarships ranged from $150-300. Not all recipients participated in the Yapalooza. Plunkett was one of the scholarship recipient.