Flood ruins houses, not hope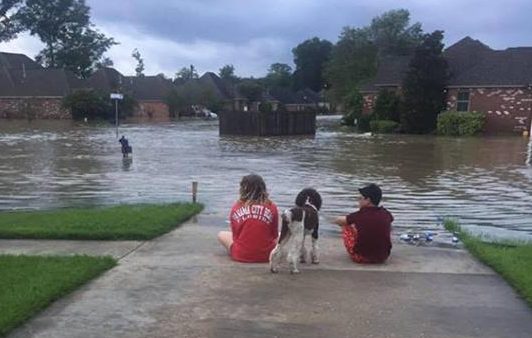 Kandice Johnson
August 22, 2016
Flood victim and volunteers share stories
It took less than six hours for "The Great Flood of 2016" to wash out Katelyn Trahan's city, neighborhood and home.
"It was so sudden," said Trahan, a sophomore biology and pre-med  major. "Most of the flooding happened from the Amite River overflow instead of the rain itself."
The Denham Springs native said she and her family members were evacuated from their home Saturday night, and while it only took four inches of rain to make her home inhabitable, the homes in the back of her neighborhood received 5 feet.
"There were several boats driving around the neighborhood to rescue people," said Trahan. "There was even a party barge."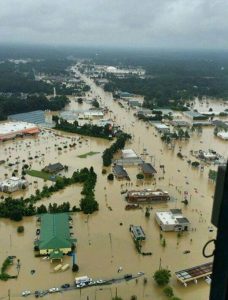 Trahan said a small boat brought them to the front of her neighborhood. "On the way through, our prop hit a mailbox, and there was a truck completely under water," said Trahan.
North Corbin Junior High, in Walker, LA, opened their doors to victims in need of shelter. "They had some food, but it was steadily running short," said Trahan. "The sight of so many people, young and old, huddled up into the awful smelling shelter made my heart ache."
Trahan and her family planned to sleep outside on concrete that night, but her uncle drove through the flood waters to bring them to his home.
Trahan inspected her home three days later, then returned to grandparents where she remained  until school started.
The Times-Picayune reported that 75 percent of homes are affected by water levels in Livingston Parish.
State emergency-management officials said 4,000 people remain in shelters and 40,000 homes have been damaged or destroyed.
Though Trahan is heartbroken about the devastation she saw, she still managed to see a postive.
"Even through the devastation and despair, it's incredible to see so many people come together to help each other out," said Trahan.
Tray Washington, a ULM alumni and intern at the Wesley Foundation, drove from Monroe to Denham Springs – with other Wesley Foundation members- Wednesday morning to relieve families.
Washington said the flood reminded him of the Monroe flood in the spring.
"We began cleaning up the house as soon as we got there and stopped when it got dark," said Washington.
"The trash pile was high on the family's street," said Washington.
"At the house that I was helping out, the family lost numerous photo albums, brand new items, all the furniture (except for a few chairs) and other sentimental items."
Joshua Hanna, another ULM alumni and intern at the Wesley Foundation, said he was "pretty blown away by the widespread devastation."
Hanna went to help his friend's in-laws who had 4-6 feet in their home.
"It was my first time seeing something like this," said Hanna. "the damage in the house was pretty incredible."
Hanna said although people lost a lot, locals and volunteers from all over helped each other out.