Flurry foam fun forms playful frenzy in quad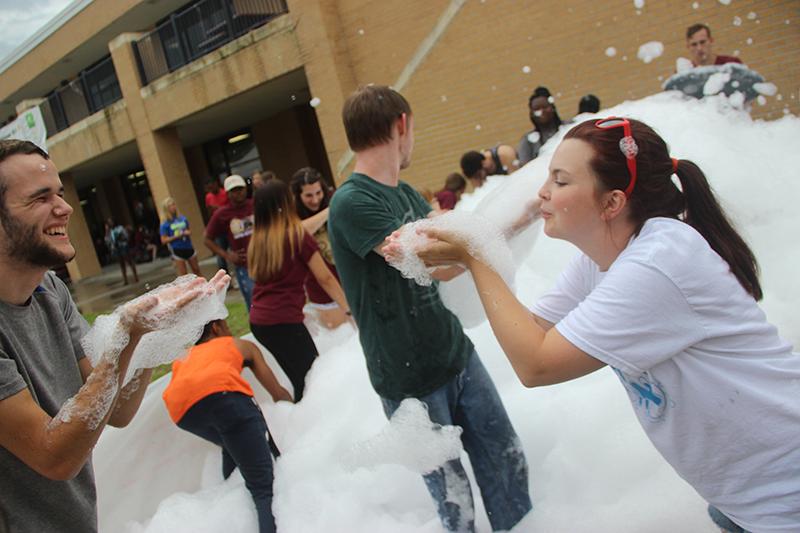 A bubble bath of epic proportions.
Up 'til Dawn sponsored a foam party in the quad to help raise awareness for the St. Jude Children's Research hospital.
On Monday members played in the foam along with other students, informing them about Up 'til Dawn.
The foam was white as snow. It was really bad to the taste, but everyone still had a good time.
Ashdon Taylor a freshman business marking major and friends, joined in on all of the fun.
"We're ha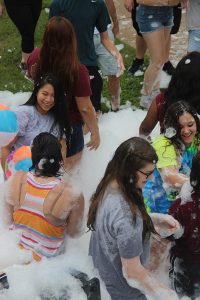 ving a blast, this is the best thing ever," Taylor said.
Taylor was like a really big kid well, everyone was, but he was even more so.
He jumped in and out of the foam, acting like he was diving into water and even swimming in it; which only made him dirty from all the mud that the dissipated foam had caused.
With it being Week of Welcome, this is a time for freshman to get out of their dorms and mingle, and the foam party made a great place for them to do just that.
Students were introducing themselves to each other left and right.
Students went crazy over the bubbles, almost as crazy as the fish from "Finding Nemo" did.
It's rare to see college students get that excited over bubbles.
Up 'til Dawn helps raise money for St. Jude to help pay for treatment, travel, housing and food so that the only thing the family has to worry about is the health of their child.
Over the summer, several members raised over $10,000; making them number three in the nation for fundraising.
Last summer they were number one and the year before that they were number two.
Nirali Patel, senior secondary education major, said that ULM has always been doing a fantastic job at fundraising for the children and the hospital.
"Hopefully we can recruit more people to come and enjoy what we're doing, and raise awareness for a hospital that does so much for not only our community but for the world," Patel said.
One student joked that Patel was getting her only shower for the week.
"This is a very important organization, not only to our members but to the people who are actively fundraising right now," Patel said.
Up 'til Dawn plans to have another event specifically for recruitment later this semester.