LA ranked 5th worst state for women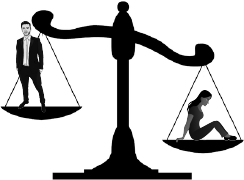 Kandice Johnson
September 6, 2016
Ranking showed LA last place for women in political roles, women say using thier voice will warrant the change needed.
While April gave a glimmer of hope to Louisiana women, August gives something dimmer.
According to Wallet Hub, Louisiana is ranked as the fifth worst state for women's equality.
Trailing behind Louisiana was Pennsylvania, New Jersey, Georgia and Utah being the last.
The study examined points such as pay disparity, executive position disparity, work hours disparity, educational attainment disparity and political representation disparity.
When broken down into a specific disparity, Louisiana ranked 50th in political representation.
The Center for American Women and Politics said that only 14.6 percent of women held seats in the state legislation.
The inequality of women cannot only be seen in political roles but in political issues as well.
Louisiana Governor John Bel Edwards addressed the issue in April after the Senate approved the Louisiana Equal Pay Act, but the bill was rejected the next month in the Louisiana House.
English professors and members of the ULM Femhawks, Meredith McKinnie and Vanelis Rivera, said they are sadly not surprised.
"If we rank fifth in women's equality, it's not surprising a bill to help women's equality wouldn't pass even though it's needed," said McKinnie.
Rivera said the mentality that she's seen is this: why fix something that's not broken?
"If that's the mentality, they're missing the point of what the real disparity is," said Rivera.
When looking at the problems with women's inequality, there's a mix of women not voicing thier rights because customs women are brought up learning and lack of encouragement being given to little growing girls that takes place.
"Seeing people like you in a postion makes you feel like you can fulfill that position," said McKinnie. "The more we get women in those leadership roles and the more we highlight them, the more that will become part of the norm."
Rivera said that it's more than women not being in leaderhip roles, but also knowing who are the womenn who want these roles.
"Are there women even relatively interested in holding a political office?" said Rivera. "If not, why aren't young women being driven to these leadership postions?"
One solution seems clear: speaking  for women equality is just the first step to becoming a higher-ranking state.