Church celebrates with annual block party
Brea Joyner
September 7, 2016
Hang on for a minute...we're trying to find some more stories you might like.
A couple of days after serving free steaks to students with the Baptist Collegiate Ministry, First Baptist Monroe hosted their first annual Downtown Block Party.
In a short amount of time, this church came together to reach beyond their building.
On Wednesday evening as the sun set, children were scattered around the multi-colored inflatables and in the pit playing Daga ball, which is an enclosed dodge ball game.
Older and young adults sat around the "Celebration of healing" bronze statue as they nodded to Bradley Bridges singing his mellow tunes.
Even though FBM put on the event  themselves, local businesses such as 88.7 The Cross and Power 92.7 showed their support by setting up their tent across the street from the food vendors.
In the 25 years Sarah Wheat had been a member, she would have never imagined herself serving the community with snow cones.
"It's been amazing to see our young [and] older members work together to put something like this together," Wheat said.
"This probably could not had happened two years ago."
According to FBM member June Jennings, the church had considered moving from the downtown area for quite some time.
Though after years of growth and change, they realized that they were placed there for revival.
"We're embracing where we are, and we're wanting to minister to our neighborhood," Jennings said.
"We just wanted to let them know that we're here and we want to be apart of their community."
FBM's newest addition to their church home was the Doughty family.
Pastor James Doughty was appointed to FBM on June 19th—a Fathers Day dedicated to serving his Father.
Within two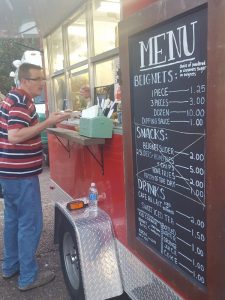 months of pastoring, Doughty and his church planned an event that they wanted the entire community to be involved in.
"We're looking at doing more stuff downtown—something fun for families, college students and older adults," Doughty said.
Doughty's wife Kirstyn also wanted to make sure their church's ministry took full advantage of their location.
"We're actually a church that wants to get into this town, and show people God's love," Kirstyn said.
First Baptist Monroe is located on 201 St. John Street. Services start at 10:30 a.m. every Sunday.