Warhawks falling in love this season with marriage advice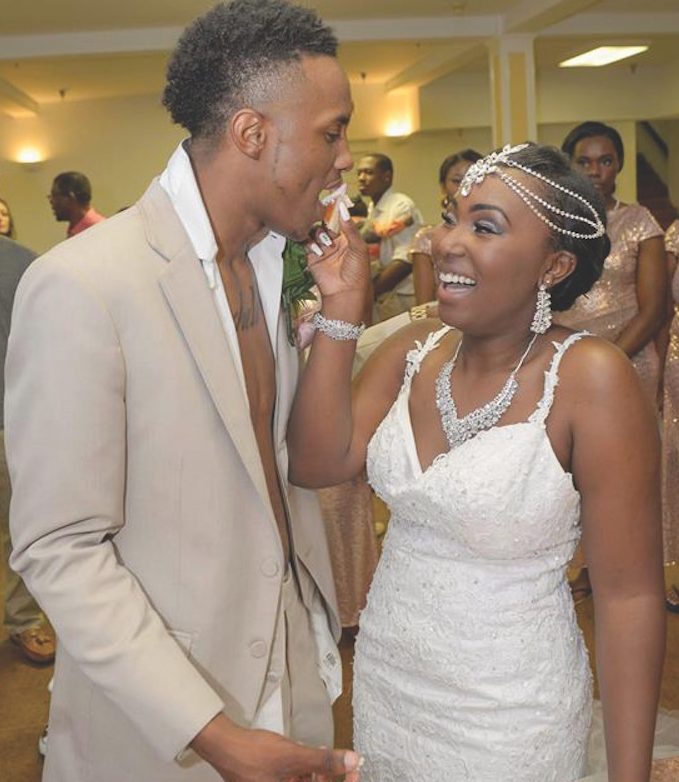 Love is in the air. While some might want to get their Lysol, these warhawks are getting married.
"Being married in college is very fulfilling. Life is about growing together. Although there's struggle…my motto is if you can't struggle together, how can you prosper together?" Michelé Holman-Wilson junior kinesiology major said.
Marriage can already be hard and being in college at the same time as being engaged or even married already can make it ever harder. Between class, homework, making time for each other, making time for your friends and everything else that life throws at you.
These warhawks are here to tell you to trust in God and everything else will work out.
Luke Arsement, sophomore psychology major, and Austin McKinley, senior marketing major is one of the newly engaged couple on campus.
They met at the first home game tailgate Arsement's freshman year.
On their first date they went to a parking garage downtown and just started dancing "and everything was just perfect that night," McKinley said.
Unfortunately, they don't get to spend much time together because of their busy schedules but that doesn't stop them.
I knew I wanted to marry him when he said he wanted to take care of me. Not only did he say it, he proved it," McKinley said.
There was a Starbucks cup sitting on the dock on campus. "Will you marry me Luke?" was written on it. After a full day of scavenger hunting, Aresement found himself on the dock. After reading it, he turned around to find Austin on one knee.
After only a few months of dating, Dianah Edwards, sophomore business major, and Taylor Amos, sophomore accounting major, have decided to tie the knot.
"The hardest thing is other people always have to put their opinion out there even if we don't ask for it," Edwards said.
Amos knows it is going to be hard, and he knows people are going to have their own opinions about their decision to get married so soon, but he said he wouldn't do it any other way.
Edwards said the hardest thing is people not being supportive.
But God gets them through it.
"Her love for God and her amazing ability to forgive and look beyond my past," Amos said that is why he wanted to marry Dianah.
"Keep Christ in the center of your relationship. Stay strong and know that the commitment you make is a lifelong commitment" between the two of you and God."
Heather Gill, a senior fine arts major isn't your traditional student. She will be 42-years-old next month.
She believes that life is much easier when you have someone to share it with.
Heather and he husband Gabe Gill met eight years ago while they were both married to other people. After their separate divorces Heather knew she wanted to be with Gabe for the long haul.
"I knew I wanted his last name on my diploma," Heather said. She was so impatient, she actually proposed to him.
Heather said Gabe is a great father to his two kids and she is amazed by the relationship he has with her daughter even though she's not his biological child.
Heather wants everyone to know that it is possible to be a good spouse and a good student.
On the dance floor of a six grade dance, there was a dance battle between two schools, Swartz and Jack Hayes. Michelé Holman and Quindarius Wilson, sophomore kinesiology major, were the last two standing.
"First thing she stated when we starting talking was 'I'm a virgin and I'm waiting for marriage, and I'm not supposed to have a boyfriend.' I respected her wishes and I had to get approval from her parents to date their daughter," Quindarius said.
Quindarius and Michelé Wilson have been dating for seven and a half years and they have been married for two months.
"I've noticed that when we went through small break ups that there was no one else that I would rather be with than her. People always say there are more fish in the sea, but this particle fish is the only one that stood put in that sea. I can't go a day without her," Quindarius said.
The main challenge they have faced is staying focused. They are in classes together, although unplanned, Michelé says Quindarius always talks to her.
"We had to learn how to balance school, work and leisure," Michelé said.
In the staircase of Ouachita Jr. High these two love birds shared their first kiss. They would schedule times to meet when they knew that teachers and students wouldn't be around. The would sneak around the school just to get that kiss. One day Michelé had glitter on her lips from her lip gloss and after they kissed some got on Quindarius lips and he didn't notice but his friends did. "What have y'all been doing?" His friends asked.
As long as these two have been together, they have God to thank for the success of their relationship.
"Keep God first. You must love him first to be able to love someone else," Michelé said.
"God will help you overcome any battles that you and your spouse may go through," Quindarius said.
When you find your one true love and you're thinking about getting married just remember: together you can do anything, with God, you can do everything!