1st presidential debate changes student views
Olivia Barfield
October 3, 2016
Hang on for a minute...we're trying to find some more stories you might like.
Hillary Clinton and Donald Trump finally fought face-to-face in the first presidential debate of this election cycle Monday night, and students made sure to tune in to the most watched presidential debate in history too.
A debate watch party was held on campus Monday night and 125 students showed up.
Polls show the race between Trump and Clinton as a close one, although they also show that most Americans had already chosen who to vote for prior to the debate. However, according to an unofficial p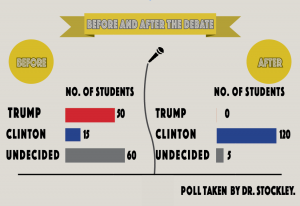 oll by Political Science Professor Joshua Stockley, the debate may have changed some ULM students' minds.
Before the debate, about 50 students predicted Trump would win the election and about 15 predicted Clinton would win. The rest were undecided.
After the debate, about 120 students said that Clinton won the debate and zero said Trump won. About five students were undecided, according to Stockley.
"ULM has unofficially spoken," Stockley said on Facebook.
The debate, which had over 84 million views, was moderated by Lester Holt of NBC News and took place at Hofstra University in Hemphstead, N.Y.
Cheers and loud boos were spurred from the live crowd that had agreed to stay silent as hot topics like income inequality, race and presidential ability were discussed.
Holt reminded viewers that although all campaign issues may not be covered during the first debate, there are still two more debates.
"We are going to focus on many of the issues that voters tell us are most important," Holt said, adding that he would press for specifics.
The debate was dividing into six segments, each of which lasted roughly 15 minutes. The three main topics discussed were achieving prosperity, America's direction and securing America.
Perhaps one of the relevant subjects brought up was a segment that examined race and policing. Clinton began by saying that race still determines "too much," included police treatment. She added that there should be a dual respect between all citizens and the law and called for criminal justice and gun law reforms.
Trump emphasized that we need "law and order." He also said that the African American community has been let down by politicians. He did not offer a solution.
As many expected, Hillary's emails were brought up. After Holt asked Trump why he has not released his tax returns, Clinton suggested that he may be hiding that he has never paid federal income taxes. Trump said that he would release his tax returns if Clinton would release her 33,000 emails sent over a private sever while in office.
The Obama birther conspiracy was also addressed. Trump never actually answered why he failed to acknowledge Obama as a citizen until very recently, although his birth certificate was released in 2011.   When Holt asked Trump about his birther theory that perpetuated that President Obama is not a naturally born citizen, Trump did not answer, saying that he wanted to get to more important topics.
Holt hit Trump with another hard question when he asked why Trump believed he has better judgement than Clinton.
"Well, I have much better question judgment than she does. There's no question about that. I also have a much better temperament that she has, you know?" Trump said. The audience laughed.
Trump went on to say that he had a "winning" temperament.
Clinton followed by accusing Trump of being unreliable with nuclear weapons. Trump once said of some taunting sailors that he would blow them up and "start another war," according to Clinton. She suggested that this temperament may lead him to use them nuclear weapons carelessly.
When discussing presidential ability, Trump said that Clinton has "no business ability."  Holt also asked Trump what he meant when he said that she does not have a "presidential look."
While Trump used the question to attack Clinton's stamina, Clinton used it as an opportunity to attack Trump's alleged sexism.
"He tried to switch from looks to stamina but this is a man who is called women pigs, slobs, and dogs…" Clinton said.
As far as policy goes, the two mainly discussed economic plans.
The two candidates displayed notably different views on improving the American economy, as expected. Clinton reiterated her plan to "build an economy that works for everyone" by creating jobs in infrastructure implementing greater measures to go "green." Trump stood by his focus on the dwindling down of America's manufacturing industry.
Trump said he would create jobs if elected, but failed to give specifics when pressed. Clinton accused Trump's plan of being a bigger version of the already failed trickle-down economy model.
"I call it trumped-up trickle down, because that's exactly what it would be. This is not how we grow the economy," Clinton said.
Emily Saunier, a senior pre-pharmacy major, said that she doesn't think either side won the debate. However, she thinks Clinton did a better job discussing details and that Trump could have done much better if he'd included more details.
"Donald Trump was kind of like 'here's my point'…there's no details.  Had he not gone off on these emotional tangents or spun in circles about the same topic, he could have done much better," Saunier said.