Pikes for Pups is perfect way to play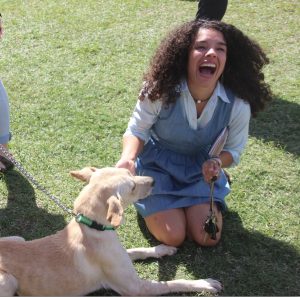 One of the best gifts ever given to the human race are dogs, and what better gift is there to give a dog than a home?
Pikes for Pups, sponsored by Pi Kappa Alpha fraternity, did just that.
Homecoming was off to a good start on Monday when the opportunity to play with puppies came up.
However, the event was much more than that. It was a chance for many pups to find homes.
Dogs from the Ouachita Parish Animal Shelter were brought on campus for students to play with for a price of $2. All proceeds went to the shelter's medical fund.
Students could also adopt the dogs at the events.
"Innocent litters of puppies get put down because there are not enough homes," Mary Bowlder, a shelter volunteer, explained.
It's important to realize that there is an 80 percent euthanization rate among shelter animals, she said. Even students and staff understood the significance of events like this.
"Things like this allow for an animal's life to be saved," CAB advisor, Michael Roboski said. He also said that it can be considered great stress relief.
Freshman Aynsley Smith considered the highlight of participating "seeing the dogs' days made."
"A lot of the animals at the shelter must spent in cages and today they got some special attention," Smith said.
It's not very easy to resist the urge to play with a ton of adorable dogs. Near the beginning of the day, fraternity members said it had the potential to be their most profitable event yet.
Each dog is deserving of a good home, and if you're intersted it's as easy as contacting the shelter.
For more information look at their site, at http://www.pawsnela.org/.