LA senate seat vote on Nov. Election Day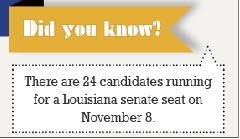 Olivia Barfield
October 17, 2016
Hang on for a minute...we're trying to find some more stories you might like.
For Louisianans, a presidential candidate isn't the only candidate to pick on Election Day. An important Senate race will also be decided at the polls.
On Nov. 8, Louisiana will conduct the primary vote to elect one member to the U.S. Senate. The seat is open following incumbent Senator David Vitter's decision to retire after losing last year's election for governor.
A total of 24 candidates filed to run and will compete in the general election in Nov. If no candidate receives at least 50 percent of the vote, a runoff election will be held on Dec. 3 between the top two.
The race will be "safely Republican," according to Ballotpedia. However, polls are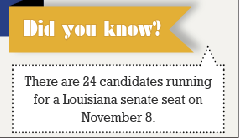 counted as inaccurate in this election due to Louisiana's "jungle primary" system where all candidates appear on the same ballot. Any voter can vote for any candidate, and a runoff between two democrats or two republicans is possible.
Although there are two dozen candidates running for the Senate seat, not all will be able to draw enough attention on the ballot.
Republican candidates include John Fleming, a U.S. Representative endorsed by The Club for Growth, John Kennedy, state treasurer endorsed by former Gov. Mike Foster and Rob Maness, who is endorsed by Lt. Gov. Billy Nungesser. Also running as Republican is neo-Nazi and former Imperial Wizard of the Ku Klux Klan David Duke.
Democrat candidates include Foster Campbell, who is endorsed by Louisiana Gov. John Bel Edwards, and Caroline Fayard,  who is endorsed by the Democrats for Education Reform, the Independent Women's Organization of New Orleans and the Alliance for Good Government.
There are libertarian candidates and some running unaffiliated in the race as well.