Students brawling with board games
Sisam Shrestha
October 17, 2016
Hang on for a minute...we're trying to find some more stories you might like.
As part of Homecoming Week, CAB hosted the "Giant Board Games" this past Monday, in front of the SUB. The noon-time event had a huge crowd of people: some returning from their classes, others joining in from the neighboring free lunch social, sponsored by the SGA.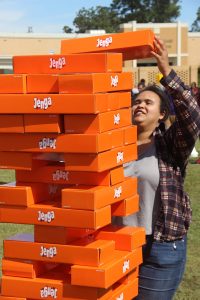 The event had life sized chess, checkers, Jenga, Connect Four, Shiskaball and Volley Pong. The Volley Pong, a redesigned beer pong, had ping- pongs replaced by volleyballs and the classic red plastic cups replaced by black buckets.
According to pre-pharmacy sophomore and CAB member Ashley Hall, the event was organized to add to the Homecoming fun by providing students with an activity in between classes.
"The turnout was really good. It's been packed and everybody's been paying every game," Hall said.
The crowd, however, was largely attracted to the giant Jenga, Connect Four and life sized checkers.
The checkers were laid out on a plastic mat and participants could be seen walking around the mat with giant checker pieces in their hands.
Zander Morissey, who found out about the event in his English class, was excited to get out and play as soon as he could.
"I am playing chess. It's very strategical, makes you think. It's a challenge. There's some people on this campus who are really good," Morissey, a freshman music major, said.
"It's important so we can all socialize together and have fun," said Millicence McFarland, a Kinesiology freshman, who was playing Shiskaball Ball-Drop game.