Mock trial sees another strong finish at Hustle City Challenge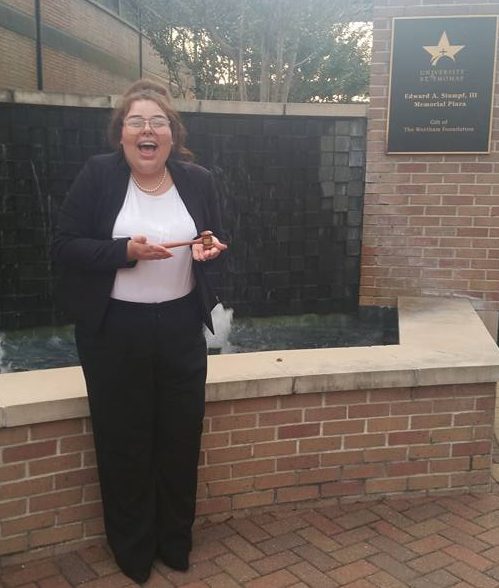 Pujan Dahal
October 24, 2016
Hang on for a minute...we're trying to find some more stories you might like.
It's only right that weeks and weeks of practice earned the Mock Trial team a Hustle City Challenge win at the University of St. Thomas in Houston, Texas.
The Gold, Maroon, and White squads all finished with identical 5-3 records, taking fifth, sixth and seventh place among the 16 teams at the competition.
According to Dorae Dadgar, a sophomore political science major and captain of the White Squad, team-work helped them win matches.
"We were really polished for the challenge. We had all our work put together and handed it to each other. We followed each other in the case," Dadgar said.
The case of discussion was "Age Discrimination". Mock trial members fought to provide justice to an employee who was fired from his job because he was getting old.
The other universities that participated include the University of Mississippi, Baylor University, Houston Baptist University, Texas A&M University, the University of Houston, the University of Texas-Arlington, Loras College and the University of St. Thomas.
The team lost one round to Baylor University, but the defeat did not dent their win.
"It definitely made us better from that challenge.  We lost that round, but it was great to see what they brought to the table," Dadgar said.
Dagar said that White Squad mock trial coach Brooke Michiels plays a huge part in their work ethic.
"Our coach is not easy on us. After every round she tears us apart," Dadgar said. "She picks us piece by piece by what we did wrong, but it helps us to keep practicing to do better the next day."
Initially, Dadgar tied with Mock Trial President Adam Nettles for the Best Closing Attorney Award, but won the award by a slight point difference.
"It makes me feel I am doing something. It keeps pushing you for more and more," Dadgar said. "I was very excited for my team the whole time."
Charles Dupree, a senior political science major and captain of the Maroon Squad, said that he cannot stress how proud he is of the freshman squad team.
Dupree said the mock trial is very technical.
"It's not like public speaking where you can walk in and speak. You may have the presence and confidence, but if you don't know the rules of evidence, it does not pass," Dupree said.
"Everybody worked hard and it paid."