Oden takes on ominous lead role
Blake Oden, a student in school to save lives, is slitting people's throat with a razor in this musical.
A nice, caring and handsome guy turned malicious murderer in the hit Broadway musical "Sweeney Todd: The Demon Barber of Fleet Street."
When Oden, a sophomore pre-nursing major, found out that the Visual and Performing Arts department was going to be doing "Sweeney Todd" this fall semester, he knew immediately that he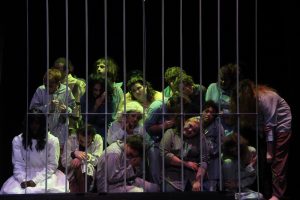 wanted to do it and that he had to be Sweeney.
"It's a dark, creepy role which is not what I am used to portraying," Oden said.
"Sweeney Todd: The Demon Barber of Fleet Street" is a musical about Benjamin Barker, a.k.a Sweeney Todd, who sets up a barber shop in the upstairs of a pie shop owned by Mrs. Lovett in London. Sweeney won't stop until he kills the judge that tore his family apart, and anyone else who gets in his way.
So, Sweeney and Mrs. Lovett devise a plan that will benefit both of them but it ends with deadly consequences.
Oden doesn't think he relates to his character at all, which is why this role was a challenge for him, but he liked the challenge and that's why, to him, it's fun to play.
"Honestly, I just act mad, and everything sort of falls into place," Oden said.
Oden knows he has done everything in his power to make this role the best it can be.
Emmanuel Capers, a sophomore music major, thinks that what the cast has done couldn't have gotten any better.
"The good, the bad and the ugly, [I] loved it just the way it was," Capers said.
All the cast mates believed that they all worked very well together.
Suzonne Shipley, a junior music education major, said that they spent so much time together that it feels like they are one big family and they "celebrate each other's weirdness."
Capers thought working with everyone sometimes got frustrating, but at the end of the day, they got the job done.
"I think it's because we are professional and want the best show possible," Oden said.
"Memories I will take from this experience are my cast members, new friends, the aches after every performance and the hard work we all put in to give everyone this production," Peyton Churchill, a junior English major, said.
To put a show together of this magnitude it takes long hours, dedication and blood, sweat and tears, which ironically enough, those things were everywhere in the musical.
"The rehearsals were pretty rigorous but it was necessary because 'Sweeney Todd' is a tough production to pull off," Oden said.
Oden said it was a phenomenal experience and that he would do it all over again if he could.
"It's an amazing show," he said.
"Blake has done an amazing job as Sweeney. He has brought something to the character that no one else has or could," Churchill said.
If Churchill could tell Oden one thing after the run of the show, it would be "to get some rest," because taking on that role must be exhausting.
"He had to put in a tremendous amount of time and effort to learn the music and really understand the breakdown of Sweeney's sanity," Shipley said.
Capers said that Oden played the character to perfection.
VAPA's spring musical will be "Pippin" and right now Oden is keeping an open mind about auditioning for it.
He plans to start nursing school in the spring of 2018.
His next two semesters are going to be pretty busy and rough but no matter what he loves to perform.
"Acting is one of my favorite things to do," Oden said.