1st international Halloween hangout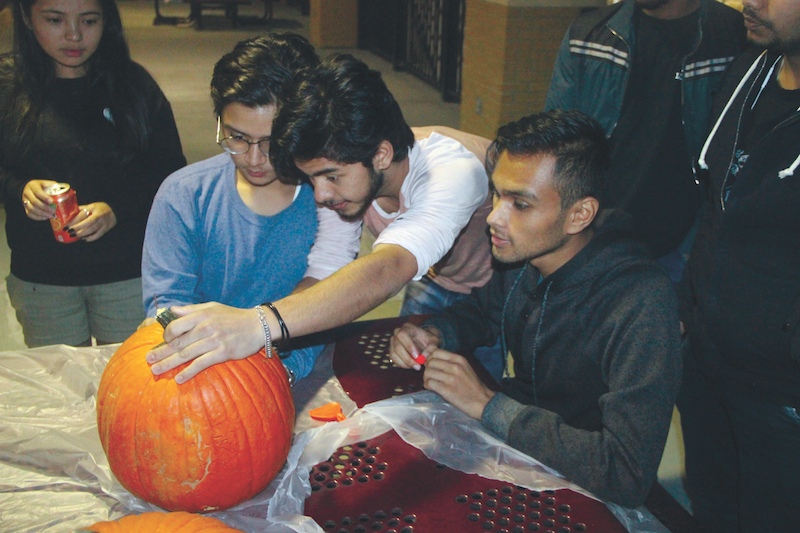 Yumeko Yano has never carved a pumpkin. She has never dressed up and donated candy for 'trick-or-treat'.
In order to let international students like Yano learn about Halloween, the Global Ambassadors organized the first annual Halloween Party.
Yano, who is an international student from Japan, celebrated Halloween for the first time.
She took this chance to carve a witch in her pumpkin.
"The pumpkin seeds are creepy. But it was a new thing to try," Yano said.
Yano said that Halloween is a 'city culture' in Japan.
"We do not have a big Halloween party in small towns like where I come from. But, in big cities like Tokyo, people dress up and celebrate Halloween."
She stepped inside the SUB ballroom, Yano had no idea about what is done for Halloween.
The celebration gave students like her a chance to carve a pumpkin, try various Halloween probes and take pictures at the party.
Mgbah Onyinyechi, a senior psychology major and the president of the Global Ambassadors said that the Halloween party was supposed to give international students a feel for Halloween.
"We figured that most have heard but don't really know about Halloween or the traditions like pumpkin carving, so we put together an event for them to experience both," Onyinyechi said.
Onyinyechi believes that attending an American university is more than the academics.
"There are amazing things in this country many internationals fail to experience because we don't know they exist. Our diversity is what makes us unique, whether local or foreign," Onyinyechi said.
Oyinyechi was very happy that the small things made the party surreal.
"We had pumpkin carving, costume making supplies, one of our Global Ambassador members, Allison, showed up as a pineapple.
We also had candy to hand out to people who attended."
Oyinyechi further said that the Global Ambassadors are planning a Thanksgiving potluck dinner and campus-wide birthday celebrations for the semester.
"Japanese people are very shy," Yano said.
Yano finds American people very friendly and forward.