Lanford crowned Miss ULM 2017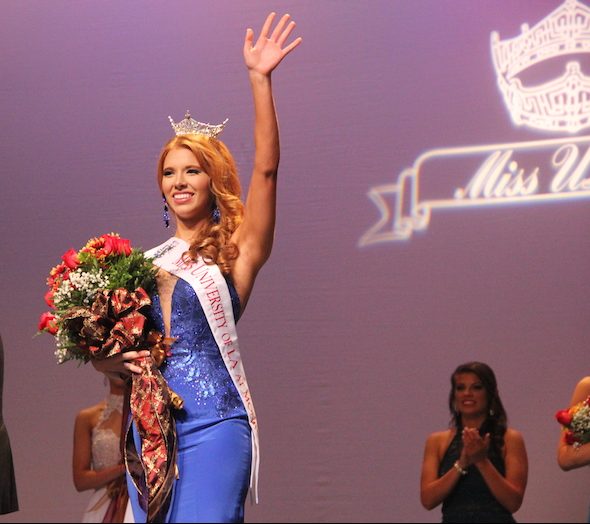 Olivia Barfield
November 7, 2016
Hang on for a minute...we're trying to find some more stories you might like.
Ashlynn Lanford couldn't believe the news at first. Had she really just won Miss ULM?
The red-haired sophomore stood shocked behind her 13 fellow contestants. The runner-ups looked back, waiting for her to make her way to the front of the stage.
"That's you," someone said.
Lanford, holding back tears, stepped into the bright lights to be crowned Miss ULM 2017.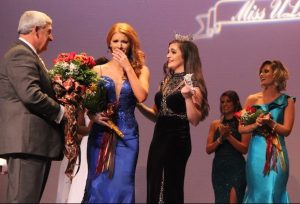 "I thought I didn't hear it, but I heard it," she said after the pageant. "I'm still trying to process it."
To Lanford, that moment felt like "winning Miss America."
And who knows? Maybe she's on her way there. Lanford said she's looking forward to competing in the Miss Louisiana competition in June. For now, however, she's excited to start working for her fellow Warhawks.
"I have a laundry list of things that I can't wait to do," Lanford said.
Her list starts with recruitment. She's ready to tell her ULM story. She wants people to know that they are not numbers at ULM, but people who are cared about.
"I want potential Warhawks to understand that ULM is not just a place you go to school or pledge a sorority/fraternity.  It is truly a family," she said.
Lanford, who has been doing pageants for about six years, didn't compete in Miss ULM last year. Winning her first Miss ULM seemed like a huge feat, but she reminded herself to keep "calm, cool and focused" throughout the night.
It worked.
Although Lanford's crowning may have surprised her, the audience didn't bat an eye when her name was called. A packed-full Brown Auditorium exploded with cheers when the girl that shone throughout the night was declared the winner.
That night, on-stage competition began with questions. While some contestants drew ULM-based questions from the bowl, Lanford drew one a little more hard-hitting.
"Does the public have a right to know about the personal lives of politicians?" asked Miss Louisiana Justine Ker, who co-hosted the event with Miss ULM 2016 Sarah Torregrossa.
Lanford answered yes, although the line should be drawn at mudslinging and delving into family lives.
"Their personal lives reflect on how they will run in office," she said, adding that her family life is very dear to her.
Whispers of  "good answer" rose from the crowd. They were beginning to notice her. And Lanford's night only got better from there.
After slaying in the swimsuit competition, Lanford got her chance to really wow the crowd during the talent portion of the night.
Lanford stood behind the microphone in a black fringe top and a long black skirt that perfectly set the mood for her slow rendition of "House of the Rising Sun," a song originally recorded in the 1960's.
Lanford, contestant number 14, was last to perform. And, based on the crowd's reaction, they had truly saved the best for last. The crowd went wild during her performance.
Talent was Lanford's favorite phase of the competition. She's only been singing publicly for three years, but it sounded like she had practiced her whole life for Friday night.
"I was so excited to be able to sing for a house full of Warhawks," she said.
Although Lanford shone on stage, she believes her off-stage interview was what helped the judges really get to know her "personality, style and beliefs."
Lanford will make her first appearance as Miss ULM 2017 at the opening of Sandel Hall Nov. 22.
Correction: Lanford competed in Miss ULM last year and took a year off from doing pageants. This is not her first Miss ULM pageant.
Arts in Healthcare: About Miss ULM's creative platform
Newly-crowned Miss ULM Ashlynn Lanford is looking forward to a lot of things in the upcoming year, but one of the things she's most excited about is the chance she's getting to expand her platform.
As Lanford says, her platform "Arts in Healthcare" is exactly what it sounds like. She plans to bring the arts into healthcare settings because it helps patients heal faster and happier.
"It just brightens the atmosphere and it actually helps a lot with the healing process because if a child feels better (or) if a senior citizen feels better, then they heal faster," Lanford said.
Lanford, a sophomore kinesiology major, plans to one day be a physical therapist and wants to implement these same ideas throughout her career. She has already been inspired by the nursing homes that she's worked at back home.
"All you have to do is set a box of cray- ons out, it's as simple as that, because it takes the mind off of what is really happening," she said.
Stress-reducers like coloring can go a long way for many different types of patients, Lanford said.
In Lanford's hometown of Pineville, LA she works with Central Louisiana Arts in Healthcare in conjunction with Christus Cabrini Hospital, a Children's Miracle Network facility. She loves seeing what art can do to help the children there, and she's hoping to and a similar organization in this area soon.
National scoring changes made before pageant
Scoring changes straight from the Miss America organization were made before this year's 2017 Miss ULM pageant, meaning that this year's pageant was judged differently than last year's.
Most notably is the fact that the national, top-five ballot is gone. In the past, the five contestants with the most points at the end of the competition were considered equally by the judges at the end. Essentially, once you made it into the top five, your points didn't matter and judges had the overall final say.
Now, however, the final ballot is gone. Final score positions develop the winners.
Another important change is that the on-stage question, which used to be five percent of a contestant's score, is now 20 percent.
The lifestyle and fitness, or swimsuit, portion of the contest has now decreased to count for only 10 percent of the final score.
Talent and interview still make up the highest percentage of the final score.